The Overseas Collectivity of Saint Pierre and Miquelon (Collectivité d'Outre-mer de Saint-Pierre-et-Miquelon), is a self-governing territorial overseas collectivity of France, situated in the northwestern Atlantic Ocean near the Newfoundland and Labrador province of Canada. It remains under French control with an area of 242 km2 and a population of around 6,000.
There are two mobile network providers:
They use the GSM 900 MHz band on 2G which is different from the GSM 850 MHz and 1900 MHz bands used in the rest of North America.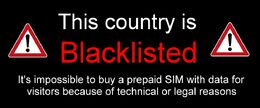 Both only offer 2G without data in this French overseas area. This leaves this area as only territory without own 3G coverage in America. So it doesn't make sense to buy a SIM card for internet and this area is therefore on our Blacklist.
But wired internet access and a widespread public WiFi network are readily available and 4G coverage is planned. Meanwhile this article will describe public WiFi options as possible substitute for getting online. As Globatel only offers subscribtions, the only choice remain the public WiFi hotspots of SPM Télécom.
SPM Télécom Edit

SPM Télécom as a division of France Télécom is also the department's main internet service provider.
WiFi hotspots Edit
Their WiFi offer is called "WiFi Urbain" and hotspots are called "SPM à la carte". They have coverage on Saint Pierre, Miquelon and Langlade (see maps) with over 150 locations.
Their prices are as following:
10 minute test: for free
1 hour: 4.99 EUR
1 day: 9.99 EUR
1 week: 29.99 EUR
There is no limit on traffic. Claimed speed is 100 Mbit/s, but real speed depends on network congestion and your distance to the access point.
To logon, connect to the network ".SPM A LA CARTE" and follow prompts. Visa, MasterCard and AmEx are accepted as form of payment.
More infomation Edit
Ad blocker interference detected!
Wikia is a free-to-use site that makes money from advertising. We have a modified experience for viewers using ad blockers

Wikia is not accessible if you've made further modifications. Remove the custom ad blocker rule(s) and the page will load as expected.