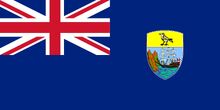 Saint Helena is an island and British Overseas Territory in the South Atlantic. It's not considered part of EU, so EU roaming caps don't apply. Many providers either charge a very high price or offer no roaming at all. The island has no submarine cable and so all the communications go through a relatively narrow satellite channel. So expect low speeds (even on LTE), high latency and high prices. The first and so far only network operator started in September 2015:
It operates a 2G/GSM/EDGE on 900 MHz and LTE on band 3 (1800 MHz). Note that there is no 3G/UMTS, so if you want data, you need a phone that supports LTE band 3 or you'll be limited to 2G/EDGE speeds.
Sure by Sure South Atlantic Ltd. is a triple player offering landline, TV cable and mobile broadband services on the island. In 2015 it started the only network covering 95% of the island in 2G and 4G/LTE. Coverage map (Note that red unintuitively means "very good signal")
Availability Edit
A SIM card costs £16.50 with £10 included. It's sold at their at their service centre at Jamestown and other places.
Top-ups are available from different stores (for list scroll to "What vendors are selling Top Up cards?"). To top-up dial *177*<CODE>#
Data rates Edit
Default data rate is £0.15/MB (£15 per 100 MB or £150 per GB). They have 2 data bundles:
100 MB for £14. To buy dial *173*100#
200 MB for £26. To buy dial *173*200#
Note that the same amount of data would cost £15 resp £30. So if you're unsure that you'll use the whole bundle, it may not be worth getting one.
More info Edit
Website: http://www.sure.co.sh/
Balance check: dial *178#
APN for prepaid (make sure you put it allcaps): SURESHL
Mobile helpline: 111
This network is separate from Sure on Ascension Island, subject to Roaming fees
Ad blocker interference detected!
Wikia is a free-to-use site that makes money from advertising. We have a modified experience for viewers using ad blockers

Wikia is not accessible if you've made further modifications. Remove the custom ad blocker rule(s) and the page will load as expected.