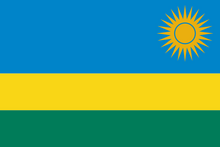 Rwanda has the following network operators:
MTN
Tigo
Airtel
KTRN (for Korea Telecom Rwanda Networks) on 4G/LTE only
The license of another operator called Rwandatel was revoked in 2011.
All 2G/GSM is on 900 and 1800 MHz, 3G up to HSPA+ on 2100 MHz.
4G/LTE has started in 2014 on Korea Telecom Rwanda Networks (KTRN) renamed from Olleh Rwanda Networks (ORN) which is an open-access 4G joint venture between South Korea's KT Corp. and the Rwandan government. They are building a common wholesale network on 800 MHz in Kigali and around (coverage map). The telco is obliged to deploy a 4G/LTE network to 95% of the population within three years of launch; the network is available in 25 of Rwanda's 30 districts in 2016. ORN offers 4G/LTE connectivity to local mobile operators and ISPs on a wholesale basis.
All three incumbent cellcos (MTN, Tigo and Airtel) have launched services over KTRN's network, while other companies permitted to resell ORN's 4G/LTE service include: GMAX, Intercom Technologies, 4NetAfrica, Piramie, Twinning in Corporation, Simba Supermarket, TRUCONNECT, POPCONN and Suku NSA (full list).
Availability Edit
Local SIM cards can be purchased at many local stores and at Kigali International Airport. There are also multiple phone registration kiosks and stands around the city where you may purchase and register SIM cards. Travelers should be sure to check whether their local SIM can make international calls and send text messages as these services often have to be specifically activated.
Regulations Edit
In February 2013 the government of Rwanda initiated the mandatory registration process as an anti-crime measure. All unregistered SIM cards were switched off from August 2013. At the point of purchase you may need to register your SIM now. For this you show your passport, hand over a copy and fill out a registration form.

MTN based in South Africa is the leading operator in the country with the best coverage and 42% of the nation's subscribers on its network in 2017. They claim to have a 95% coverage in the country (see coverage map). But this refers to 2G only. 3G is only available in the centers. It used to have a market share of 100% back in 1998, but now faces stiff competition from 2 new players in the market.
Availability Edit
Their SIM card is available in MTN Shops (list) and at the airport. These are often mobile stands clearly visible on the street. They are available in all mini and micro sizes, nano may have to be cut to size. Regular price is 500 RWF, but can be lower in promotions or higher for services like cutting.
Top-ups can be made by vouchers sold there or at M-Charge outlets and other stores. The PIN needs to be typed in your phone like *111*<code># or online. With an internatl. credit card or from abroad you can use agencies like ezetop or ding.
Data feature packagesEdit
Default rate outside of packages is 56 RWF per MB, 30 RWF per MB between 1am-6am.
Facebook only: Facebook access is offered 7 days for free aften activation. Then it costs 35 RWF per day, 150 RWF per week or 350 RWF per month. Activation is by USSD code *198#.
| Validity | Data (month) | Price | Activation |
| --- | --- | --- | --- |
| 1 day | 1 GB | 800 RWF | *345*1# |
| 7 days | 1 GB per day | 5000 RWF | *345*7# |
| 30 days | 1 GB per day | 21,000 RWF | *345*30# |
| 30 days | 250 MB | 3000 RWF | *345*250# |
| 30 days | 500 MB | 5000 RWF | *345*500# |
| 30 days | 1 GB | 8000 RWF | *345*1000# |
| 90 days | 5 GB | 15,000 RWF | *345*5000# |
| 90 days | 10 GB | 25,000 RWF | *345*10# |
| 90 days | 20 GB | 43,000 RWF | *345*20# |
To check the bundle balance, dial *345#, to check main balance, dial *110#. Wikipedia is given out free of charge. There is a FUP of max. 1 GB per day on all bundles.
WiFi bundles Edit
MTN Hotspots are available in Kigali, Rwamagana, Ruhengeri, Gisenyi, Huye & Cyangugu. To get a code dial *346# and follow the commands. Password must be 8 to 12 digits or characters long. Open any webpage on your browser and you will be re-directed to the MTN Hotspot page that will prompt you for a username and password. Once you log on you will be online instantly and can start browsing.
Enjoy MTN WiFi by default is at 25 RWF per MB and 10 RWF/MB every night between 1:00-6:00am. You can buy two packages:
daily (midnight-midnight): 1 GB at 1000 RWF, activation: *346*1#
weekly (for 7 days): 1 GB at 6500 RWF, activation: *346*7#
Bundles can be bought from the SIM card credit. To check the bundle balance, dial *345#.
4G/LTE bundles Edit
In May 2016 MTN began to resell KTRN's 4G/LTE network (see basics). To enjoy 4G, MTN subscribers will have to upgrade to a 4G SIM card for 1,000 RWF and need a 4G-capable device on 800 MHz. Once connected to the 4G network, customers will dial *345# and select the 4G bundle to purchase a daily, weekly or monthly pack.
daily: 1 GB for 1 day - 1900 RWF
weekly: 7 GB for 7 days, 1 GB daily limit - 11,500 RWF
monthly: 30 GB for 30 days, 1 GB daily limit - 41,000 RWF
volume-based: 5 GB for 30 days - 20,000 RWF
More infoEdit

Tigo changed the game when it entered the market in Rwanda in 2008. It is now the 2nd operator with a 39% share in 2017 and biggest gainer in recent years. Their coverage is not as good as MTN's (coverage map), but they offer quite lower rates.
Availability Edit
SIM card is available at their Points of Sales and at other stores. Mini-SIM (2FF), micro-SIM (3FF) and nano-SIM (4FF) available.
Top-up vouchers are sold there for 300 - 10,000 RWF valid for 30 or 60 days or by interntl. credit card on aryty. Check balance by *131#. To add credit type *130*<voucher PIN>#.
In 2017 Tigo extended SIM card validity for all prepaid customers from 6 months to 2 years. Previously, all customers had to reload their credit every 6 months to keep their SIM cards active. Now a recharge of any amount extends the validity of a SIM card by 2 years.
Data feature packsEdit
Default data rate is 51 RMF per MB:
Package
Validity
Data
Price
Activation
Daily Packages:
Surf 50
24 hours
7 MB
50 RWF
*222#
Surf 100
24 hours
17 MB
100 RWF
*222*10#
Surf & Talk
24 hours
25 MB
200 RWF
*222*253#
Day Phone
24 hours
30 MB
150 RWF
'Phone' to 7050
Surf 300
24 hours
200 MB
300 RWF
*222*0300#
Surf 500
24 hours
500 MB
500 RWF
*222*505#
Surf all day
24 hours
1.2 GB
800 RWF
*222*1500#
Weekly Packages:
Surf 1000
7 days
750 MB
1,000 RWF
*222*07#
Surf all week
7 days
5 GB
5,000 RWF
*222*7000#
Monthly Packages:
Monthly 3000
1 month
3 GB
3,000 RWF
*222*031#
Monthly 5000
1 month
5 GB
5,000 RWF
*222*5000#
Monthly 8000
1 month
8 GB
8,000 RWF
*222*8000#
Monthly
1 month
30 GB
21,000 RWF
*222*30#
4G/LTE bundles Edit
For the new 800 MHz KTRN 4G/LTE internet, Tigo resells these bundles called Go 4G Mobile:
daily (24 hours): 1.5 GB - 1,500 RWF
weekly (7 days): 14 GB (max. 2 GB/day) - 10,000 RWF
monthly (30 days):

10.5 GB - 20,000 RWF
60 GB (max .2 GB/day) - 40,000 RWF
For purchase you need to have a 4G-enabled SIM card and dial *310#.
Internet settingsEdit

Airtel, by Indian Bharti Airtel is the latest arrival in the country and started with its data service as late as 2013. They have a market share of only 19% in 2017 and the lowest coverage so far at the best prices. They have a huge variety of packages, but better check coverage first.
Availability Edit
SIM card is available in their Airtel Distributor Shops. Check balance by *131#, to recharge by voucher enter *130*<voucher PIN>#. Vouchers are available for 100-5000 RWF.
Data feature packsEdit
Default rate for their "3.75G" data network is 51 RWF per MB. They offer these packages: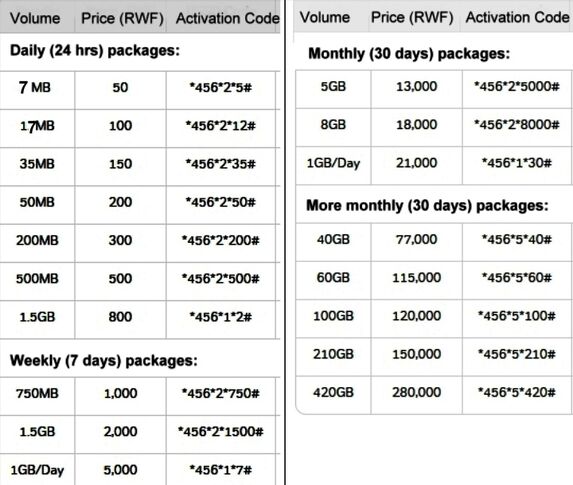 Furthermore, you can add regular vouchers as data vouchers, by typing *132*<voucher PIN>#:
100 RWF voucher: 12 MB for 1 day until midnight
300 RWF voucher: 200 MB for 1 day until midnight
500 RWF voucher: 500 MB for 1 day until midnight
1,000 RWF voucher: 750 MB for 7 days
2,000 RWF voucher: 1.5 GB for 7 days
5,000 RWF voucher: 1.5 GB per day for 7 days
4G/LTE packages Edit
Airtel also resells the KTRN 4G/LTE network on 800 MHz. They offer these packages for 4G/LTE: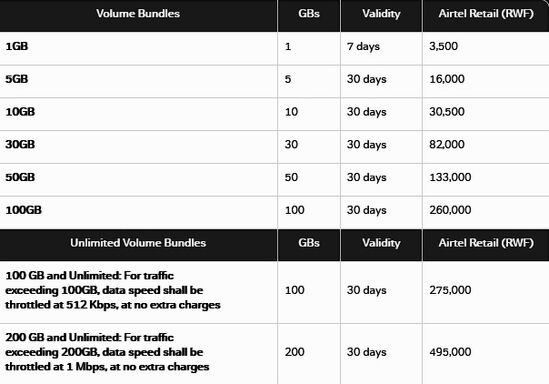 You can also top-up with vouchers sold by Airtel for 5,000, 10,000 or 20,000 RWF online here.
More info Edit
Ad blocker interference detected!
Wikia is a free-to-use site that makes money from advertising. We have a modified experience for viewers using ad blockers

Wikia is not accessible if you've made further modifications. Remove the custom ad blocker rule(s) and the page will load as expected.