Norfolk Island is a small island in the Pacific Ocean located between Australia, New Zealand and New Caledonia. The island is part of the Commonwealth of Australia. Together with two neighbouring islands, it forms one of Australia's external territories. It has around 1,800 inhabitants living on a total area of about 35 km2.
Currently there is only one 2G operator on the island: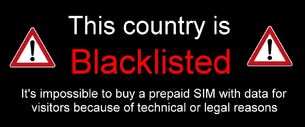 The Australian Government looks into upgrading to 3G or 4G and to link the island by a fibre-optic submarine cable. This has however not yet been implemented. According to our rules this island is blacklisted.
However, a new more powerful satellite access was launched recently and most of the homes are still connected by landlines.
nbn SkyMuster satellite service Edit
In 2017 the Australian nbn SkyMuster satellite service started on the Norfolk Island. It delivers broadband access to homes and businesses in regional and remote Australia via two state-of-the-art satellites. This usually involves the installation of a satellite dish, a modem and a power supply in a private home or business free of charge. Typically speeds of 8-20 Mbps are reached and prices start at about $35 per month for 15 GB.
Norfolk Telecom (NT)Edit

Norfolk Telecom is the state-owned telco and operates a 2G/GSM network on 900 MHz. Local SIM cards provide no data. It's telecom system is obsolete and outdated. You can't use it for data transmission.
Voice/text-only SIM (no data) Edit
Normally we wouldn't feature a voice-only SIM but given that there is no mobile data on the island, this might still be useful to keep in touch with local businesses and other visitors
It costs AU$ 20 with AU$ 10 credit and is available from following stores:
Norfolk Telecom
The Trading Post
Ina'ai Entertainment
Paw Paw's Pump Shed
Norfolk Post
Pete's Place
Recharge vouchers are available from Norfolk Telecom, all service stations, video stores and supermarkets in AU$ 10, AU$ 20, AU$ 30 or AU$50 denominations.
Be aware there is no data use on this SIM, but it's useful for local calls.
WiFi hotspots Edit
Alternatively, Norfolk Telecom also operates a network of WiFi hotspots throughout the island for internet connections. To logon you need to buy a voucher. They are available from Norfolk Telecom and many independent shops, supermarkets, visitor centre, petrol stations and cafes. Available sizes are:
for 1 hour: AU$ 5
for 5 hours: AU$ 20
for 10 hours: AU$ 35
1 GB valid for 6 months: AU$ 25
2 GB valid for 6 months: AU$ 40
4 GB valid for 6 months: AU$ 70
More info Edit