Norfolk Island is a small island in the Pacific Ocean located between Australia, New Zealand and New Caledonia. The island is part of the Commonwealth of Australia. Together with two neighbouring islands, it forms one of Australia's external territories. It has around 1,800 inhabitants living on a total area of about 35 km2.
Currently there is only one 2G operator on the island: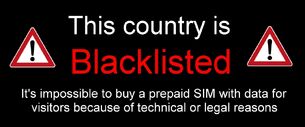 Data are available only to roaming customers at high rates. The Australian Government looks into upgrading to 3G or 4G and to link the island by a fibre-optic submarine cable. This has however not yet been implemented. According to our rules this island is blacklisted.
Norfolk Telecom (NT)Edit

Norfolk Telecom is the state-owned telco and operates a 2G/GSM network on 900 MHz. Local SIM cards provide no data. Data is available only for M2M and roaming customers at very high rate.
Voice/text-only SIM (no data) Edit
Normally we wouldn't feature a voice-only SIM but given that there is no mobile data on the island, this might still be useful to keep in touch with local businesses and other visitors
Costs AUD 20 with AUD 10 credit. Available from following stores:
Norfolk Telecom
The Trading Post
Ina'ai Entertainment
Paw Paw's Pump Shed
Norfolk Post
Pete's Place
Recharge vouchers are available from Norfolk Telecom, all service stations, video stores and supermarkets in AUD10, AUD20, AUD30 or AUD50 denominations.
Beware: no data on this SIM but is useful for local calls.
WiFi hotspots Edit
Alternatively, Norfolk Telecom also operates a network of WiFi hotspots throughout the island for internet connections. To logon you need to buy a voucher. They are available from Norfolk Telecom and many independent shops, supermarkets, visitor centre, petrol stations and cafes. Available sizes are:
for 1 hour: AUD 5
for 5 hours: AUD 20
for 10 hours: AUD 35
1 GB valid for 6 months: AUD 25
2 GB valid for 6 months: AUD 40
4 GB valid for 6 months: AUD 70
More info Edit
Ad blocker interference detected!
Wikia is a free-to-use site that makes money from advertising. We have a modified experience for viewers using ad blockers

Wikia is not accessible if you've made further modifications. Remove the custom ad blocker rule(s) and the page will load as expected.