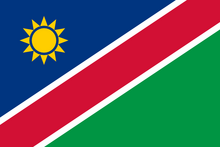 Namibia is a country with a very low population density. But mobile phone coverage is quite good in populated areas and along the main highways. Some level of coverage is nearly always available throughout the country with exception to some National Parks (like Etosha), where you get data and phone services only in the rest camps.
In 2017 mobile coverage stands at 95% of population, but 3G is only available in large towns and some villages. Expect data speeds to be low at other places.
Namibia has two network operators:
2G is on 900 and 1800 MHz, 3G on 2100 MHz only. 4G/LTE has started on both operators on 1800 MHz in some town centres only.
Voice over IP (VoIP) is technically illegal in Namibia, and many wired internet connections (including WiFi at hotels) will block some types of VoIP traffic, though MTC seems not to block anything over cellular data. As of March 2016, Google Hangouts worked reliably.
All prices are without sales tax (V.A.T.) which is 15% in Namibia. So you'll need to add 15% to all prices given below.

MTC is the first mobile phone provider with the most customers in Namibia and a pretty good coverage: MTC coverage map . It's the recommended network for travellers. Coverage along the main (B) routes (at least for the routes tourists will travel) is very solid for voice/text, but data is only 2G (EDGE) outside of towns. 3G (UMTS) data is usually available when passing through towns of any size.
Availability Edit
You can find MTC shops called "Mobile Homes" in all shopping malls in Windhoek and also at the airport, when arriving at the Husea Kutako Airport (WDH). The airport shop is open between 6am and 9pm covering all international arrivals and is friendly and efficient (and seemingly trustworthy).. They also configure your phone and do all necessary setup.
You can get a prepaid SIM card called Tango for N$ 6.99. It can be used for voice and data. Tourists may be offered their MTC Traveller SIM card for N$ 19.95 with N$ 19 credit included. Micro- and Nano Sim cards are not always available, but the MTC shop at the airport cuts them for free.
You can find a list of "Mobile Homes": here Recharges can be bought throughout the country including street merchants.You can top up N$ 5-300 extending SIM life for 1 to 100 days depending on the amount. Check balance by typing *131#.
Data feature packages Edit
After activation default tariff is N$1 per MByte. For data their bundles are valid for 60 days: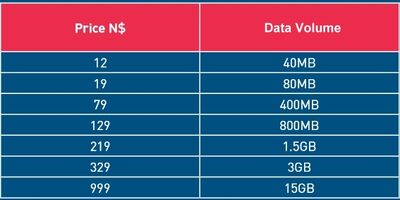 To activate one of the packages, buy and activate sufficient credit (give it some slack), then send an dial *682# or *147# and follow the instructions. Add 15% taxes (VAT). All bundles above are for 60 days. You can purchase multiple bundles.
Combo Packages Edit
The best value is the 'Aweh Gig package', which offers 100 domestic minutes, 700 SMS, and 1 GB of data (plus a bonus 500 MB of WhatsApp data without VoIP calling), all good for 7 days at N$35. This is a much better deal than buying the regular 1GB data package (with the caveat it's only good for the week). To activate, text '#AwehGig#' to 134. Aweh Gig vouchers can be bought at MTC vending machines. Once 1 GB of data has been used, another Aweh Gig package can only be activated after the end of day 7.
More info Edit
TN Mobile (formerly LEO, Cell One)Edit
TN Mobile for Telecom Namibia Ltd. Mobile was previously called LEO Mobile and Cell One. It's the smaller network with a slightly lower coverage, but very similar prices. So better make a network scan before purchase. TN Mobile National Footprint.
Telecom Namibia also runs a TD-LTE network on 2600 MHz (band 38) in some towns. But this replaces their WIMAX network and is intended for stationary home use mostly.
Availability Edit
They offer two prepaid plans called Hola! and Prepaid per Second in their shops that have the same rate for data. Hola! has lower call rates per minunte, but a 30 second billing increment instead of Prepaid by second.
To check balance send a blank SMS to 124, or call 139 to hear your balance. To top up, buy a voucher and enter the voucher PIN and send the SMS to 124.
Data feature packages Edit
Data outside of bundles is N$ 0.95 per MB. These data bundles are on offer (to all prices add 15% VAT tax):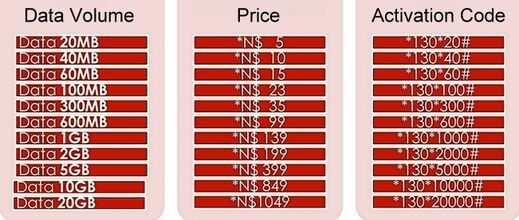 Like MTC TN Mobile has combo packages on promotion as well. Theirs are called Jiva. For 7 days, it includes 1 GB data, 100 dom. minutes and 700 SMS for only N$30. Some promotional Jiva combos have Twitter, Facebook, WhatsApp and Viber included and an even higher data allowance or free night data. Check locally and activate by *130*776#.
More info Edit
Ad blocker interference detected!
Wikia is a free-to-use site that makes money from advertising. We have a modified experience for viewers using ad blockers

Wikia is not accessible if you've made further modifications. Remove the custom ad blocker rule(s) and the page will load as expected.