Mongolia is a huge country located between Russia and China. Two main GSM-based operators are active here:
Skytel and G Mobile both only operate a 3G network in Ulaanbaatar and GSM-incompatible CDMA network in the rest of the country. That's why they are not listed on this page.
On MobiCom and Unitel 2G is on 900 and 1800 MHz, 3G (HDSPA) on 2100 MHz. 4G/LTE started in 2016 in Ulaanbaatar city only on 1800 MHz and new licenses were given out for 700 MHz (Band 28).
As the least densely populated country in the world, with a significant portion of the population living a nomadic lifestyle, large areas are still not covered. A few years ago the government issued a decree that a rider needs to reach a point of coverage within 4 days. This has improved since.
With almost half the population clustered in the capital of Ulaanbaatar, most resources are deployed here. You can expect 3G coverage only in and around of major towns, but all provincial capitals are covered by 3G now.

MobiCom is the biggest Mongolian cellular operator with 1.7 million active subscribers. It was established in 1996 as a joint Mongolian-Japanese venture and is the first Mongolian cell phone service. It was founded by Mongolian Newcom Group, and Japanese KDDI. As of 2015, Mobicom holds over 33% of the market, with network coverage of 95% of the pouplation. It delivers its services through 64 branch units, 2,200 dealers and over 10,000 mobile sales points.
Aside from cellular communications, Mobicom also has services including international communications, fixed Internet and satellite communications. Mobicom introduced 3.5G (HSPDA) networking in 2009. Its network support phones with 2100 MHz. 4G/LTE on 1800 MHz is working now for all users without any surcharges. 4G is enabled by default on all new SIM cards. You can check your SIM card for 4G support by entering your MobiCom mobile number here.
It is considered to have the best coverage in the country of all operators at the highest prices. Check coverage map
Availability Edit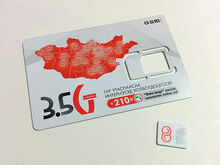 Its basic prepaid package called MobiCard can be purchased at MobiCom service points. You will need to provide your ID or passport for mandatory registration.
Standard and micro SIM cards are available almost everywhere, finding nano can be a bit difficult, so get ready to cut.
MobiCom sells two main prepaid packages: "MobiCard" and "One" for 5000₮ without any credits or for 10,000₮ with 5000₮ pre-loaded.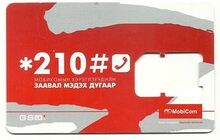 Prepaid plans Edit
Both of MobiCom prepaid plans ("MobiCard" and "One") have the same basic data rate of 0.09₮ (MNT) per KB (price valid without any active packages). "One" package offers better rate for local calls within MobiCom network.
Your account will expiry after 30 days of inactivity. To save the number and account, you need to recharge for at least 1000₮ every 30 days.
Data packages Edit
These data packages can be used with all prepaid plans:
Package name

and volume

Valid for
Price
100MB
1 day
1000 ₮
250MB
7 days
3000 ₮
600MB
15 days
6000 ₮
1.1GB
30 days
11000 ₮
2.2GB
30 days
15000 ₮
5GB
30 days
25000 ₮
To activate a selected package, write SMS with its name or volume (Case sensitive! No spaces! Dot, not comma!) to number 592. For example, if you wish to get a 2.2 GB data package with 30 days, simply text 2.2GB to 592.
To check, how much data is used send a text "B" to 592.
Tourist Combo Packages Edit
MobiCom has introduced the special "tourist combo" bundles with lower international calling rates, SMS messages and mobile data packages designated for foreign tourists visiting Mongolia. There are 3 combo bundles and 3 special data only packages:
| Package name | Price | Valid for | Local calls included | SMS included | Data included |
| --- | --- | --- | --- | --- | --- |
| Tourist 19000 | 19000₮ | 10 days | 100 mins | 100 | 100 MB |
| Tourist 69000 | 69000₮ | 20 days | 500 mins | 500 | 500 МB |
| Tourist 129000 | 129000₮ | 30 days | 1000 mins | 1000 | 2 GB |
| Internet / Data 15000 | 15000₮ | 10 days | - | - | 500 МB |
| Internet / Data 20000 | 20000₮ | 20 days | - | - | 1 GB |
| Internet / Data 30000 | 30000₮ | 30 days | - | - | 2 GB |
You can activate your SIM Card by sending "ON" message to the special number 111;
You can check how much remains from the bundle by sending "C" message to the special number 111;
Included calling minutes valid for all local calls within Mongolia;
Included SMS messages valid for international SMS (from Mongolia to the foreign numbers);
Useful information Edit
To check the balance, dial *210# and press "call" button.
APN settings: internet
MobiCom support service: dial 2222 from any MobiCom mobile phone
MobiCom website in English: http://www.mobicom.mn/en/

Unitel (
Uni
versal or
Uni
ted 
tel
ecommunications) is the 2nd mobile operator in Mongolia. It was founded together with South Korea on December 23, 2005 as GSM mobile phone operator, and began operations on June 26, 2006. Its revenue, profits and revenue per subscriber (ARPU) figures are rapidly growing. Within its initial year Unitel acquired 200 thousand subscribers, probably the biggest dynamics per one year in Mongolian telecommunication history so far. In 2009 Unitel launched its 3G network on HSDPA 2100 MHz. Unitel network covers approximately 88% of population. In November 2010 Unitel declared that it has become 100% indigenous company (i.e. Mongolian share owners bought all share from the Korean side). In 2001 Unitel updated its logo. Major shareholder of the Unitel is MCS Holding, Mongolian largest private held organization. In 2016 they started 4G/LTE on 1800 MHz in the towns of Ulaanbaatar, Erdenet, Darkhan City, Dalanzadgad, Tsogttsetsii open for prepaid.
Availability Edit
You can find Unitel official shops in Ulaanbataar. It can be difficult to buy a new SIM card as very few people speak English there. There is no English website or support phone. Only in Mongolian. You will need your ID card, passport or driving license to register your new package.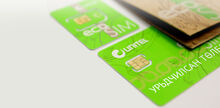 There are standard size, micro and nano SIM cards available.
Prepaid plans Edit
Basic prepaid package "Simple" costs 3000₮ with 1000₮ credits preloaded.
Default data rate is 0.09₮ per KB.
Data bundles Edit
Most widely sold is "Smart Data+". Package costs 15,000₮ and contains 1 Gb of data (valid for 1 month) + 5000₮ credits for calling. Also you can buy it for 10,000₮ without any calling credits loaded. Facebook traffic is free.
If you have any other package, you can switch to "Smart Data+" by writing SMS with text "data" or "2" to service number 1441.
Useful information Edit
APN settings: unitel or net
Official website (in Mongolian only): http://www.unitel.mn/
Customer support line: 77778888, 77778080 or 1414 from Unitel mobiles (only in Mongolian).
To check the account balance, dial *1411# and press "call" button.
To recharge the account using the voucher, dial *1411*[voucher code]# and press "call" button.
All basic prepaid packages valid for 30 days since last recharge.
Ad blocker interference detected!
Wikia is a free-to-use site that makes money from advertising. We have a modified experience for viewers using ad blockers

Wikia is not accessible if you've made further modifications. Remove the custom ad blocker rule(s) and the page will load as expected.