The
Marshall Islands
, officially the
Republic of the Marshall Islands,
is an island country located near the equator in the Pacific Ocean, slightly west of the International Date Line. Geographically, the country is part of the larger island group of Micronesia. Around 55,000 inhabitants live on 181 km
2
area.
On the Marshall Islands there is only one mobile operator:
MINTA (Marshall Islands National Telecom Authority)
It's the only telecommunications operator on the islands and it operates a 2G-only network without data. In September 2016 they partnered with Blue Arcus and Alepo to upgrade their network to 4G/LTE, but no ETA is known. For now the Marshall Islands remain one of the least connected areas in the world.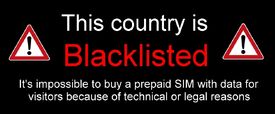 Therefore it doesn't make sense to buy a local SIM card for internet access. According to our rules this country is Blacklisted. On two islands you can use WiFi hotspots instead, on the other islands you need a satellite phone.
MINTA as sole provider operates a 2G-only network without any data on GSM 900 and 1800 MHz. They also offer a network of WiFi hotspots and fixed internet. Mobile network is only available on the islands of Majuro, Ebeye, Jaluit, Kili, Rongelap and Wotje. For the other islands you need a satellite telephone.
Voice/text-only SIM Edit
SIM card costs US$ 20 without any call credit. Available at NTA office on Majuro. Recharges are available there and also from some hotels and banks.
Beware: this SIM gives you NO data, but local calls may still be useful.
WiFi Hotspots Edit
MINTA operates a WiFi network on Majuro and Ebeye islands.
It costs US$ 15/month for phones or US$ 35/month for laptops plus once-off setup fee of US$ 5. The system works based on MAC-adresses, so every device needs a separate registration and payment. You can register at NTA offices on Majuro. You will need a to bring a photo ID and your device.
More info Edit