Ad blocker interference detected!
Wikia is a free-to-use site that makes money from advertising. We have a modified experience for viewers using ad blockers

Wikia is not accessible if you've made further modifications. Remove the custom ad blocker rule(s) and the page will load as expected.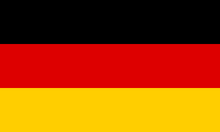 Basics
There are now only three network operators left in Germany:
All other offers mentioned below are MVNOs of one of the three network operators above. MVNOs are particularly popular for prepaid in Germany and are mostly cheaper than the MNOs. They now have a market share of more than 40% for prepaid which is amongst the highest in the world.
The following operators are sorted according to network. In 2016 all three network operators are neck and neck: Telefónica/o2 is market leader by customer numbers, but Telekom is still ahead what sales figures are concerned. That's why this list follows the historical order of the networks usually used in the country: first Telekom, to be followed by Vodafone and concluded by o2 (Telefónica).
Coverage and speed
2G and 3G: GSM up to EDGE speed is on 900 and 1800 MHz, 3G is on 2100 MHz like in most of Europe. Almost the entire country is covered by 2G. 3G/UMTS up to DC-HSDPA+ speed is available in most of the populated areas with some blank patches left in the countryside.
4G/LTE: LTE has been rolled out on most common 4G frequencies in Europe on all operators: 800 MHz (band 20), 1800 MHz (band 3) and 2600 MHz (band 7).
Availability
The most convenient way to purchase a SIM card for a visitor is to go to one of the big supermarket, drugstore, service station, electronic market chains or an operator's store and look for the providers shown below. Remember that MVNOs tend to be generally cheaper than their MNOs:
Most SIM cards can be used for data as well as phone calls and SMS messages. Data-only SIMs are rare in Germany. The standard voice rate is around 9ct per minute for a domestic call (to any mobile or landline) and about 9ct for a domestic SMS.
Activation and registration
By law, all SIM cards need to be registered first to be activated. Registration is often not done in shops, but online or by phone instead. But this may pose a problem: Remember, you don't have a working phone or internet access yet! Phone activation can be tricky too, because of the language. Online registration is usually in German only, but possible with the help of an online translator. Look for the words 'registrieren' or 'freischalten' on their website and keep phone and SIM numbers ready.
As foreign addresses are usually not accepted, use any German address instead, as your personal data will mostly not be verified. But you need to give a valid German street address: name + street name + house number + postal code + city. If you don't have a German address, use your name with c/o name and address of someone else, e.g. the hotel where you are staying. Registration can take some minutes up to a few hours, until your SIM card finally connects with the network. You may need to switch off and on your device to connect.
Update 2016: Right now, only two operators Fonic and Lidl Connect verify your given address by sending you a letter by mail. If you want to use your SIM card for longer and intend to give an address, where you can't be verified for whatever reason, better choose a different provider instead.
The government plans to change this process as online registrations have led to many fake SIM accounts. A new registration scheme with showing an ID card or passport is intended, but not yet finally implemented. So be prepared to show your documents at the point of purchase from 2017.
Tethering is usually allowed with all the shown offers below, except on the free ad-sponsored SIM of Netzclub and Lycamobile. Some providers don't supply a profile for the iPhone, but don't block it otherwise. VoIP calls are officially allowed only by o2 and some of its MVNOs. Other operators like Vodafone still officially ban them in their T&Cs without any real consequences. Only Telekom (and its MVNOs) has actively blocked and scrambled VoIP in the past, but opened some tariffs for it now.
Topping up
German SIM cards can be topped up in many ways, but only few of them are suitable for visitors as some of them require German payment systems.
when you are in Germany only:

Buy top-up vouchers called Ladebons in many stores with a PIN to enter. The vouchers of the network operators are most widely available. You can use Telekom vouchers for Congstar and ja!/Penny mobil, Vodafone vouchers for Otelo, Fyve, Edeka and new LIDL Connect; E-Plus vouchers for Aldi, Ortel, Whatsapp, ay yildiz, Blau(world), NettoKOM and Norma Mobil and o2 vouchers for Loop and Netzclub. For Fonic, Lycamobile and Lebara, you need special vouchers which are less widely distributed. Note that the billing systems of E-Plus and o2 haven't merged yet and you can't use one voucher for the other.
Go to one of the three major drugstore chains (Rossmann, Müller, dm) or to cash and carry markets like "real" to top-up most brands and pay at the cash register with internatl. MasterCard, VISA and sometimes even AmEx.
When you are in or out of Germany (trying to keep an existing SIM card alive, topping up before arrival from abroad or while on roaming abroad):

some SIM cards can be topped-up with international credit cards (VISA, MasterCard) and sometimes PayPal on the websites of the provider. But some foreign credit cards have been rejected in the past and a few providers may add a small surcharge.
other SIM cards still don't allow online top-up by credit cards or have disabled that. Here you will need to use 3rd party agencies instead.
The website or app prelado.de does most recharges without fees. Again, it might be picky about some credit cards from out of the country, but accepts PayPal, if you have a positive balance on your account. An alternative for a small transaction fee is aufladen.de.
As a last resort international top-up agencies can do the transaction for a variable surcharge of up to 10%.
EU roaming charges

For roaming in other EU/EEA countries very different rates are charged. But some providers sell EU data already at domestic German prices:
* On Vodafone and most of its MVNOs you can use all your domestic allowances within packages without any surcharges in all EU/EEA countries.
* On some o2-Resellers like Aldi Talk, NettoKOM, Norma mobil you can buy weekly add-on packages at domestic prices for data use in the EU/EEA and even Switzerland.
* On Deutsche Telekom you can use your domestic data allowances in the EU/EEA too, but not voice or SMS. Data are "unlimited" and only throttled to 64 kbps when the package is used up.
Beware that without these options some providers still charge excessive roaming rates of up to 0.23 € per MB.
More information
The following list shows only the most important players on the German prepaid market. Many other providers compete for special segments and audiences. The German prepaid WIKI has an updated extended survey (in German only, use Google Translate): www.prepaid-wiki.de.