UPDATE JUNE 2017:
Please be aware that this article will not be updated anymore. It's out-dated as in June 2017 all European Vodafone networks have implemented "roam like at home" international roaming without surcharges all over the EU/EEA, discontinued the old roaming options and introduced new packages. Check the new European Union article for the general scheme and the Netherlands article for specifics. This site here is only kept for a while for the additional info it's giving to Vodafone NL users.
Vodafone Netherlands with YOU plans Edit
Verified in Germany (in May 2016)
Like in Germany Vodafone in the Netherlands have scrapped roaming surcharges for prepaid and sell their included voice, SMS and data allowances while roaming in all of the EU/EEA countries and Switzerland at domestic Dutch rates. Thus e.g. 1 GB for 30 days in and outside of the Netherlands is sold at €10.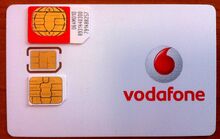 Vodafone Nederland
Issuing Country Edit
The Netherlands
Roaming option Edit
A domestic (= Dutch) package or plan with allowances must be booked before. The European roaming consumption will be debited from the included domestic package allowance without any further roaming surcharges.
Validity Edit
Valid in 43 European countries, in all of the EU and EEA member states, and additionally in Switzerland, Faroe Islands, Isle of Man, Channel Islands, Monaco, San Marino in all Vodafone roaming networks. Not valid in other areas and without a package booked before where and when roaming is still possible, but at much higher rates.
Roaming networks Edit
Vodafone has the largest system of mobile networks in Europe. It uses either own branded Vodafone networks or so-called Vodafone partner networks like SFR in France or Swisscom in Switzerland. In every mentioned country at least one Vodafone or partner network is available, but other networks remain mostly inaccessible.
4G/LTE is available in the Netherlands in up to 75 Mbps (not on YOU S plan which stays on 3G) and is also enabled in most EU roaming countries. Speed tests in Germany on 4G gave good latency at 50 ms and the same unthrottled high speeds of about 30 Mbps like on a local Vodafone 4G SIM card.
Default rate when no monthly plan is activated is 0.10 € per MB in the Netherlands and in the EU/EEA.
Note: Some users are still offered the Dagbundel of 100 MB for a day at € 1. This rate is not advertised anymore. It may or may not be offered to you online on your account or through the app. If you only need a small allowance for a day and this bundle is offered to you, it's cheaper than using the default rate (for 10-100 MB).
Monthly plans Edit
Their YOU prepaid plan is a combo plan with data, voice and text valid for 30 days in 43 countries in 4G/LTE speeds up to 225 Mbps.:
YOU S: 10 € - 1 GB of data, 10 minutes calling and unlimited SMS
YOU M: 15 € - 2 GB, 20 minutes and unlimited SMS
YOU L: 20 € - 3 GB, 30 minutes and unlimited SMS
The YOU bundles include free incoming calls and SMS from everywhere as long as you are staying within the 43 country roaming zone and have a bundle allowance for voice.
The outgoing calls don't only apply to the issuing or roaming countries, but to all voice calls to mobiles and landlines within the roaming area. So you can call from Athens to Dublin using your allowance. Premium numbers, special services, all kinds of MMS, international calls from the Netherlands and calls out of Europe are excluded from the package and need to be paid extra.
Data billing is in fair 1 KB increments in the EU. The YOU plans normally don't auto-renew after 30 days. You will get a message and need to book it new to extend. Only some bundles offered as auto-renew "Deze bundel vernieuwen we elke maand automatisch als je genoeg tegoed hebt" will do so, if you have enough credit.
Activating and de-activating the options Edit
You can activate a YOU plan by app, on your MyVodafone account or by SMS command:
for YOU S: text '1GB aan' to 4000
for YOU M: text '2GB aan' to 4000
for YOU L: text '3GB aan' to 4000
All packages auto-renew after 30 days. Text 'STOP #GB' to 4000 where # is bundle size or do it by app or online.
For overuse outside of their package allowances these high standard charges are applied:
incoming calls/SMS: free
outgoing calls: 0.20 €/min roaming and in the Netherlands
outgoing SMS: 0.15 €/min roaming and in the Netherlands
data: 0.10 €/MB roaming and in the Netherlands
Take care, that roaming is still possible outside of their European area too, but at even higher rates. The rates above apply, if you roam without having booked a package before or when the package is expired. You should not call out of Europe to the rest of the world, as high rates are charged incoming and outgoing. For overseas calls better use VoIP or call-back services instead, which are not blocked. This also applies to foreign calls and texts from the Netherlands abroad to anywhere else, as these are on unregulated IDD rates.
When data is used up before the month is over on a YOU bundle, they'll offer you 10% of the allowance on top for free. If you need more, you can start a new YOU bundle. Their 'Data Deal' with 200 MB for a week at 1 € is not valid for roaming, but only in the Netherlands. And you will be offered day bundles as add-ons with 100 MB valid for one day only in roaming to at 1 €.
Availability of SIM Card Edit
This Vodafone SIM is a Netherlands-issued SIM Card. Vodafone in the Netherlands sells it only within the country. But some online vendors distribute it worldwide. Be aware, that Vodafone SIM cards from other countries (but Germany, see Euro7) don't offer this option up to now. The SIM in the starter pack is now triple-sized - standard, mini and nano format.
In the Netherlands Edit
In the Netherlands you get a Vodafone SIM card for free without credit on their website here. But they will only send it to a Dutch postal address. If you know anyone in the country, who can forward you a letter, it can be a good option. In the country you will get it in all Vodafone shops (locator) for 5 € with the same credit and in other phone shops like Phone House (locator) or smaller stores and electronic markets like Media Markt too. No need to show an ID card or passport up to now, no registration required.
Outside of the Netherlands Edit
Online, dealers send you the SIM card abroad to any address worldwide for an extra handling fee. Look on Amazon or eBay on a worldwide search for Vodafone SIM cards from the Netherlands. Don't get confused with Vodafone SIM cards from other countries.
A tightening of security laws for unaccounted prepaid SIM cards is currently discussed in the Netherlands, but up to now SIM cards are still freely available, can be purchased in the country without showing an ID card or any registration and can be freely sent outside. This may change in the future.
Registration / Activation Edit
As Dutch SIM cards don't need to be registered so far, it will arrive alread pre-activated and will connect to a roaming network right away. Default PIN code is 0000.
After you have put it in to your device and got network connection, you need place a call or send a SMS anywhere to activate it which will be charged according to standard rates. The activation is confirmed by a message.
Managing the SIM card Edit
For managing the SIM card you should log on to your personal account on Vodafone called "MyVodafone". There you can check data and other consumptions, change plans or book add-ons. This can also be done by their app which may not so easy to install and some basic commands by USSD code.
By USSD codes and text commands Edit
These are the most common USSD codes. Have in mind that the reply messages are in Dutch:
 *101#: credit check
  #100#: your phone number
to change language of your messages to English, text 'English' to 4000
to see a detailed credit, text 'status' to 4000
On your personal account "My Vodafone" Edit
You should register on your personal account called "My Vodafone" as card management can be easily done there and this account can be moved to a translator, if you don't understand what it's saying, but it can't be switched to English though.
First you need to register for MyVodafone on their website . Go to MyVodafone and proceed with new user registration page. Enter your phone number written as Mobiel nummer on the plastic tray of the SIM: 061########## (use Dutch format). Give your gender as male = Dhr. or female = Mevr., your first name Voornam, your family name Achternaam and a valid email address (twice) for verification. You have to set a password at Wachtwoord (entered twice, numbers and letters, 6-15 digits, the bar needs to turn green) and demand a SMS code to your phone at Verstuur SMS code. You enter the code and click on Account maken.
They'll send you an email to verify the given address which need to be confirmed by clicking on the word 'activeren' in the received e-mail message. Now your account is operational and you can log in (inloggen). Use your e-mail address as login and password (wachtwoord) that you have set.
You don't need these account procedures to top-up (this can be done on a special site as shown below). Or you can use their app instead.
By app "MyVodafone" Edit

Vodafone NL has developed an app for Android, iOS and Windows Mobile devices called MyVodafone. This can be very handy to manage your SIM and check your consumptions. But you will face two problems: it's in Dutch language only and it's hard to use Google Translate or any other translator tool. And the app is only distributed geo-restricted in Google Play or iTunes stores.
For Android users can download the app here (MyVodafone). You need to allow apps from other sources to install. You can also follow this manual and add the Dutch app. But be sure to add MyVodafone app of Netherlands and nowhere else.
Like for your personal account, you'll need to set a username and password. The registration is similar and you can use the same set log in of your MyVodafone account to log into your app too.
APN Settings Edit
APN: live.vodafone.com
Username and password: vodafone
For roaming you need to enable data roaming on your device and ignore the warning of possible high costs.
Recharges Edit
There are several ways to top-up (opwaarderen in Dutch) your account depending on where you are:
In the Netherlands Edit
Just go to any supermarket, kiosk, service station, newspaper stand, post office, some ticket machine etc. and get a Vodafone voucher to top-up. They are locally called opwaardeerbon and are available for 10 €, 20 €, 30 €, 40 € or 50 €. The PIN must scratched free to be entered in your phone like this: *102*<15digit PIN code># and <call>. These reload cards work from abroad too, but vouchers of different Vodafone networks other than from the Netherlands don't work.
In and outside of the Netherlands: Edit
Vodafone offers several ways to top-up your account from abroad. Through their website, your online account or their app you can reach their top-up site or simply go to opwaarderen. Choose Eenmalig opwaarderen (top-up once) and via credit card as for iDEAL you need a Dutch bank account. You can top-up 10 €, 20 €, 30 €, 40 € or 50 €. After a 10 € top-up your whole credit will be valid for one year.
Vodafone uses the Dutch service provider Alphacomm BV for their recharge service. They accept VISA and Mastercards, Maestro and Dutch debit systems. All credit card transactions are free of surcharges. This company may decline some out-of-European credit cards and some cards issued in the UK as well as debit cards, as they have done in the past.
Vodafone.nl have another recharge page for use overseas (In het buitenland) which looks a little different and works with an Australian credit card.
Other top-up agencies in the Netherlands like opwaarderen.nl and beltegoed.com may do the job for a small fees. While they can be picky about foreign credit cards too - give it at try - they accept PayPal and PaySafeCards (opwaarderen) or even bank transfers (beltegoed).
Expiration policy Edit
The expiry rules of this SIM card may be interesting to you, if you plan to keep the SIM for another trip. They are pretty casual. Loaded credits valid for 12 months since last recharge. The validity can be checked online or with mobile application. When your credit has expired after 12 months, you still have 3 months to recharge the account and get your preloaded credits back. After about 15 (12+3) months of inactivity your SIM card will be permanently terminated.
Restrictions Edit
There are no known restrictions to roaming. Dutch and EU net neutrality laws make sure that you can use VoIP and call-back services as well as tethering through a WiFi hotspot.
Comparison to Vodafone Germany Edit
So far only two Vodafone networks in Europe have opened their prepaid packages to EU roaming without surcharges: Vodafone Germany (and its resellers) and Vodafone Netherlands. Both products are similar, but have these differences as well:
Vodafone Netherlands
Vodafone Germany
"Roam like at Home"

countries

EU, EEA, Switzerland, Channel Isl., Isle of Man, San Marino, Monaco
EU, EEA only
Validity of packages
for 30 days
for 28 days
Online recharging through official website
without surcharges
for 0.50 € surcharge
Registration
not required
required with a German postal address
Data packages
3 different combo packages

with 1GB, 2GB or 3GB

many different packages

150 MB - 4 GB

Availability of SIM
for a surcharge on eBay
widely sold on eBay or Amazon, often discounted
Support hotline: 1200 (from your Vodafone phone)
or +31 654 500 100 (from any phone)
Further options Edit
The introduction of EU roaming without surcharges to the Dutch market has found some copies so far:
Market leader KPN also offers their prepaid bundles for roaming all over the EU/EEA without surcharges, but at higher domestic rates than Vodafone. For instance 1 GB are sold at € 16 with 4G/LTE. This is slightly reduced by their reseller Kruidvat Mobiel with 1 GB without 4G/LTE at € 12.50.
For these offers check their section in the Netherlands chapter.