Meteor Ireland with roaming option or add-onsEdit
Verified in October 2015 in Germany.
Meteor Ireland gives out 50 MB per day for €0.99 or 1 GB per month for €14.99 in Europe. Special domestic rates apply for Ireland, no base rate is charged.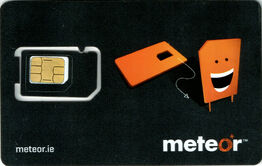 Network: Edit
Meteor
Issuing Country: Edit
Rep. of Ireland
+353 8## ### ###
Roaming Options Edit
Roam like home offer, EU data add-on, combined talk, text & data add-ons
Validity Edit
Valid in all EU and EEA member states, the Channel Islands and the Isle of Man. In the Rep. of Ireland special domestic rates apply. In other countries roaming may be still possible, but at higher rates.
Roaming networks Edit
Meteor has a broad variety of roaming networks in all EU/EEA states, but Vodafone is mostly excluded. Speed is unrestricted up to 3G, no roaming on 4G/LTE yet outside of Ireland.
Price for data Edit
Within the Roam like home offer Edit
50 MB high speed volume in 2G and 3G data (up to DC-HSPA+) within a calendar day based on Irish (GMT) time for € 0.99. There is no charge on days, when you don't use service at all.
Meteor is very rigid about their 50 MB per day threshold. It is not expandable in any way, but to buy an add-on, and for overuse they charge excessive 25ct per MB.
Additionally, you'll get all incoming calls in EU/EEA for free without any passive roaming charges. But this comes at a price too: Outgoing calls and texts are charged higher than the EU roaming cap. So don't ever use this option to call or text out.
This option can be mixed the EU add-ons below.
Within the EU data add-on Edit
This add-on can be booked additionally and independently from the Roam like home offer. You don't need to activate Roam like home but can stay on their standard rates.
1 GB high speed volume in 2G and 3G data (up to DC-HSPA+) within a month for € 14.99.
add-ons purchased in months with 30 days (April, June, September and November) expire after 30 days and new add-ons can be purchased on the 31st day.
add-ons purchased in months with 31 days (January, March, May, July, August, October, December) expire after 31 days and new add-ons can be purchased on the 32nd day.
add-ons purchased in February expire after 28 days (29 for leap years) and new add-ons can be purchased on the 29th day (30th for leap years).
This add-on can't be renewed ahead of time. But you can add different combined packages.
Within the EU data, talk & text add-ons Edit
These offers are for data, talk and text in EU roaming:
50 MB, 10 roaming mins, 30 roaming SMS within 1 day for €3
200 MB, 30 roaming mins, 50 roaming SMS within 3 days for €8
500 MB, 100 roaming mins, 200 roaming SMS within 7 days for €15
Again, these packages can't be renewed ahead of time, but can be mixed with the 1 GB add-on and/or Roam like home option.
Outside of the roaming option: Edit
Take care: much higher prices for roaming apply outside these roaming options and in other countries outside the EU/EEA like Switzerland, where roaming is still possible.
Domestic Use in Ireland: Edit
Special data rates are valid for the Rep. of Ireland where the roaming options from above don't apply. Check the Meteor section in our Ireland article about domestic options for Ireland.
Voice and text rates: Edit
This option is not recommended for calling or texting, but for data. With the Roam like home offer enabled, you get all incoming calls within the EU/EEA for free. You should take care that roaming rates when calling or texting out are above the EU price cap. Only the combined add-ons for data, talk & text give reasonable rates for EU roaming calls and texts.
Availability of SIM Card Edit
This prepaid/PAYG card is an Irish-issued SIM Card. Meteor sells it only in the Rep. of Ireland for free in their stores and doesn't send it abroad. But online vendors distribute it worldwide on eBay and other platforms, which is legal in Ireland. Just get any pay-as-you-go SIM of Meteor without a plan.
in Ireland: in Meteor and Carphone Warehouse stores across the Rep. of Ireland. All Irish SIM cards are free of charge when topping up a minimum of € 5 right away. See Ireland article.
outside of Ireland: online, dealers charge you for shipping around €5-10, but it will be delivered to your postal address anywhere in the world. Just look for "pay as you go Meteor" in an European search on eBay. Some merchants actually advertise the "cheapest roaming option in Europe".
You receive a SIM card in triple size cut-outs for mini, micro and nano and a small leaflet stating your phone number, PIN and PUK.
Starting up Edit
After purchase the SIM card is mostly without credit. To activate you need to load at least € 5 on it (see Top-ups below). Roaming is activated by default. So insert your SIM into your phone, enter your PIN from the leaflet and wait a while until it connects to a (roaming) network and texts you messages.
Registration Edit
Like in the UK, Irish SIM cards don't need to be registered to be activated. But you should better open an online account on the Meteor website to manage your card and top it up more easily. For this you need to sign up on their website here.
Activating the roaming options Edit
Now you have to activate the roaming options from above. Unlike roaming in general, these options are not activated by default.
Roam like home offer (for 50 MB/per day at €0.99 and free incoming calls, but higher outbound call and text rates): text the word 'EUROPE' to 50104 for free. To change back to standard rates, text 'STOP EUROPE'.
1 GB EU data add-on (for 1 GB per month at € 14.99): text 'Data EU' to 50104 for free. This option does not auto-renew.
EU data, talk & text add-ons: Text 'EU roam 1' for the 1 day, 'EU roam 3' for the 3 day and 'EU roam 7' for the 7 day add-on to 50104. These options don't auto-renew.
A confirmation SMS will be sent. If a confirmation SMS is not sent, the add-on is not active and standard charges of 25ct per MB apply. Unused allowances cannot be carried over after the expiration periods set out above. They are once-off add-ons, so they can't be renewed ahead of time. But all three options can be combined.
For roaming, be sure to activate data roaming, check the APN (data.mymeteor.ie) and ignore the warnings of your phone about possible charges.
There are several ways to top up your account, again depending on where you are:
in Ireland: Just go to any supermarket, kiosk, petrol station, newspaper stand etc. and get an Meteor top-up voucher.
in Ireland and from outside: Meteor is very relaxed with most international credit cards. You can top-up on their website or through your personal account with international Mastercard or VISA. Minimum top up value is € 5, maximum is € 60.
The first top-up when activating the card from outside should be done as a gift top-up here.
Checking balances Edit
You can always check your credit and consumption online on your account. Data consumption on add-ons can be checked by texting 'balance roam' to 50104, general account balance by *#100#.
To keep your SIM alive, the expiry rules will be important to you which are quite relaxed. If you don't top-up a minimum of €5 at least once every 150 days, though for a further 30 days you will continue to receive incoming services only. During this 30 day period and thereafter up to 13 months from the last purchase of credit, your suspension will be lifted if a minimum top-up of €5 is applied to your account. Upon expiry of the 13 month period, Meteor may unilaterally terminate your SIM card without prior notice. If suspended, Meteor will remove any credit remaining on your account after 240 days from the last top-up event.
VoIP, Tethering, T&Cs Edit
VoIP works and is verified
Tethering and hotspot use is supported
You don't have to disobey any T&Cs
Ad blocker interference detected!
Wikia is a free-to-use site that makes money from advertising. We have a modified experience for viewers using ad blockers

Wikia is not accessible if you've made further modifications. Remove the custom ad blocker rule(s) and the page will load as expected.