Ortel mobile Germany with Cross option Edit
Verified: Czech Republic (March 2015), Greece (Sept 2015), Netherlands (Nov 2015).
Ortel mobile gives out 750 MB data, 300 minutes outgoing calls and unlimited incoming calls for €20 per month in all of the EU/EEA countries plus Switzerland.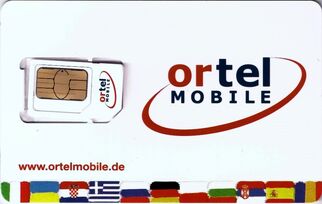 Ortel Mobile (MVNO on Eplus/Telefónica)
Issuing Country Edit
Germany
+49 163 ### ## ##
+49 1577 #######
+49 1578 #######

+49 1573 #######
Roaming option Edit
Cross (needs to be activated)
Validity Edit
Valid in all EU and EEA member states and Switzerland (see map) in all data roaming networks when the "Cross" package has been bought before. Not valid in other areas, where roaming is still possible, but at much higher rates.
Roaming networks Edit
Ortel has many roaming partners throughout Europe as it uses the network of Eplus/Telefónica. Of course, it prefers its own KPN/O2 networks, but it has many more partners. Generally two or more options are available for every country, except in Germany where it's on Eplus only (but now merging with O2). So you have a great variety to choose from, though Vodafone is mostly excluded. Only on 2G and 3G up to 7.2 Mbps outside of Germany, 4G/LTE only available on 1800 MHz in some city centers of Germany on Eplus.
The SIM card doesn't have a base rate. For EU roaming you should book the "Cross" package. For € 20 per month, you get:
750 MB data in the all EU member states (Germany included), Norway, Iceland and Switzerland
unlimited incoming calls from everywhere for free, if you are staying within this area
300 minutes of outgoing calls within this area.
The package is valid for 30 days. The outgoing calls don't only apply to the issuing or roaming countries, but to all calls to mobiles and landlines within the validity area. So you can call from Athens to Dublin on the package. Premium numbers, special services, all kinds of SMS or MMS and calls out of Europe are excluded from the package and need to be paid extra. Note: no SMS is included in the Cross bundle. For more rates check: Ortel Mobile Roaming Tariff
This is a good price on a monthly base, if you need moderate amounts of data and voice too. Assuming we split the € 20 in two equal parts of €10, data in the package will be 1.3c/MB and voice will be 3.3c/min which you can't beat with VoIP especially to mobile lines.
Billing for voice is in 60/60 increments. Overuse of the package is charged as follows:
for data, you can buy an add-on of 500 MB for € 9 by texting "Datax" to 77300 (valid for the running time of the previous package). You can upsize several times. But in practice, upsizing can be difficult. You can't add another data pack until the current one is used up and it seems to take a while until your order is confirmed (can take up to one day). In the meantime you should deactivate mobile data in the settings of your phone, as your are now on the default rate of €0.23/MB. If you don't you will eat up your balance before the option is booked. And your option will eventually never be booked due to low balance in your account. So it might be a better deal to buy a local SIM card for larger data volumes instead.
for voice, 9c/min will be charged for all calls (within the validity area of the pack)
Take care, that roaming is still possible outside of the validity area of the Cross package, but at much higher rates. The same applies if you roam without having booked a data pack before or running out of data on your pack. You should not call out of Europe to the rest of the world, as high rates are charged incoming and outgoing except from or to Germany. For overseas calls better use VoIP instead, which is not blocked.
Availability of SIM Card Edit
Ortel mobile is a German-issued SIM Card. Ortel in Germany sells it only in the country. But online vendors distribute it worldwide. Be aware, that Ortel mobile SIM cards from the Netherlands, Belgium or Switzerland can't be used for the Cross option.
In Germany Edit
online from Ortel to be sent to a German postal address only (normally takes 2-3 working days)

for free: without credit
for 9.95 €: with 10 € credit and another 10 € bonus on the first top-up

at their vending partners in Germany like Shell service stations or "real" supermarkets, in branded O2 stores and generally in inner cities at small shops targeting immigrants and migrant workers for 9.95 € with 7.50 € credit. Take care, there are two starter packs: one with a smartphone option prebooked and the other without. Take the one without.
Outside of Germany Edit
Online, dealers send you the SIM card abroad to any address for a small fee. Look on ebay.de or Amazon.de for "Ortel mobile SIM" and the SIM card advertised as "Die Welt spricht Ortel" = the world speaks ortel. Some only send it within Germany but some to Europe and the world.
Don't get confused with Ortel mobile SIM cards from other countries like Switzerland or Austria. You should also stay away from Ortel offers with a (domestic) bundle already pre-activated. Some offers now appear with the Cross pack already on. They are OK, if you don't want to set a specific start date for Cross. Otherwise, better choose a starter without any pre-booked option still on the default rate (use Google Translate to check offer). The German SIM card is mostly shipped still unregistered and unactivated.
Registration / Activation Edit
All SIM cards in Germany need to be registered online on your name and address before activated. This is quite easy as their website can be switched to English and the whole process can be done there.
For this you need the SIM card, your phone no. ("Meine Rufnummer" - ortel wants it like: 49163##########) written on an extra paper and the SIM card no. like written on the plastic tray of the SIM together with PIN and PUK. Then, you shouldn't choose any special tariff.
Now comes the tricky part: You have to give an address in Germany. This needs to be a valid street address in the country. But you don't need to have residency there. In fact, it might be an hotel address or any other address you (or Google) can think of. The important thing is, that this address is checked for consistency on a database. So the combination: postal code and location, street name and house no. must be plausible and existing. If you fail, you get an error message saying your data are not consistent and you need to try again. Finally, you need to check the first two boxes, but don't worry your data will not be verified otherwise.
If the system has accepted your data, activation will be processed. This can take some minutes, but more likely some hours before your SIM finally connects with a network. You may have to switch off and on your device and be patient. Activation can be done through a roaming network too, as verified in the Czech Republic. But there you need to activate international roaming and disable data to avoid any default roaming rate costs.
Managing the SIM card Edit
In the meantime, you can sign in to your Ortel account. For some miraculous reason, your online account can be switched to English, but not the log in. You have to go to "Mein Ortel Login" on the top of their website. Then, you'll see the log-in page. When you are there for the first time, go to "jetzt für mein Ortel registrieren". leading to a page called "Neuregistrieren". There you need to put in your mobile no. at Meine Rufnummer (49163############), your PUK 1 from the card tray at meine PUK1 and your email address at meine Email-Adresse. Click on "registrieren".
They will send you an email verfication link to the given address right away. You need to click this link in the mail to be redirected and automatically logged in. Then you can set a password with 8-40 (?!?) digits for the future log ins. After log in you can switch your personal account to English where you can check balances, book options or load your credit.
Activating the Cross option Edit
After your SIM has been activated, be sure that data stays disabled as long as you have not purchased a package as default data is very expensive in Germany. Better load sufficient funds first (minimum 20 €) to buy the data pack (see below). The Cross option can be purchased:
online on your Mein Ortel account at Meine Optionen and buchen
by texting "CROSS" to 77300
by dialling 1155 and press the following key combination in the menu: 8 > 1 > 7 > 1
It has proven, that it may take some hours, sometimes up to a full day, until your order has been processed. So you better activate it, one day before you enter the roaming zone. First, you will get a message, that your order has been received. Some minutes at best or more likely hours later registration to the package will be confirmed by another text message. Again, you should not use data before getting this confirmation. You may now enable roaming data and check your APN configuration:
APN: internet.eplus.de
Username: Eplus
Password: Internet
The Cross option auto-renews every month if you have enough credit. You can stop it by being low on credit or deactivate it by calling 1155 or online on your account. You can not book other packages (like domestic German data packs) simultaneously on the same SIM. Units that have not been used, expire at the end of the option period.
Be aware that you get a SMS notification only at the moment your included data is used up. From this moment on, you'll surf on an excessive default rate of €0.23 per MB. If you plan to extend your package by a 500 MB add-on (see above), you should have loaded at least € 9 on your account before, so you can text the command rightaway.
There are several ways to top up your account, again depending on where you are. All of them are somewhat slow-going. Sometimes, it takes some hours, until your credit has finally arrived on your account. So allow plenty of time and stay patient.
In Germany Edit
Just go to any supermarket, kiosk, service station, newspaper stand etc. and get an Eplus voucher of €15, €20 or €30. The PIN must be entered in your phone like this: *104*<16-digit PIN># and <call>. The reload cards work from abroad too, but vouchers of Ortel networks other than Germany don't work.
In and outside of Germany: Edit
Unfortunately, Ortel has temporarily discontinued electronic top-ups on their website, because of the merger with Telefónica. Right now, you need to use 3rd party top-up sites like http://www.prelado.de that can be switched to Englsih and accepts some foreign credit cards and PayPal (once per month) without surcharges.
You can check balance anytime free of charge by typing *100# and [call].
Expiration policy Edit
The expiry rules of this SIM card may be interesting to you, if you plan to keep the SIM for another trip.
Ortel wants you to do some activity every 3 months to check if you are still alive. This can be as low as an incoming text message - SMS. SIM card has an initial validity of 3 months. Top-ups extend this time for 6 months at least with another 2 months of grace period when it will be frozen (only incoming services allowed when frozen).
Restrictions Edit
No restrictions on tethering, but VoIP is officially banned, but not actively blocked on Eplus MVNOs and proved to be working. Peer-to-peer is banned too. You are only allowed to register up to two Ortel SIM cards on one name.
Ortel mobile app Edit
Ortel has developed a special mobile application for Android devices, not yet for Apple or Windows phones. Through this app you can easily purchase packages, top up and check your data consumption. It can be set to English as default language. Also it supports other languages.
Since 3rd version, the geo-restriction has been removed, so you can try to download it directly from the Google Play Store. If you failed to download it from Google Play Store, you can download it manually from here:
Version 3.0.9 (for almost all modern Android devices)
Version 2.8.5 (for oldies and if latest version doesn't work on your device)
Allow "applications from other sources" to install it from APK file. Also it requires your Ortel SIM to be in the phone for first time verification. You will also need any network connection, e.g. WiFi or any mobile data package.
Ad blocker interference detected!
Wikia is a free-to-use site that makes money from advertising. We have a modified experience for viewers using ad blockers

Wikia is not accessible if you've made further modifications. Remove the custom ad blocker rule(s) and the page will load as expected.