UPDATE JUNE 2017:
Please be aware that this article will not be updated anymore for European roaming. It will eventually be linked to the "All countries" section, because some more countries are now covered by Three's roaming zone.
From June 2017 you can take most SIM cards issued in the EU or EEA and use it in all member countries without surcharges at the domestic rate. The Three UK option is still an unique offer when it comes to certain countries outside the EU like the US, Brazil or Singapore. That's why this special section will be maintained.
Three UK with Feel at Home optionEdit
Verified in June/July 2014 in the USA and Norway.
Three UK gives out foreign data for their domestic UK rate like 200 MB/month for free, 500 MB/24 hrs for £3, 1 GB per month for £10 or 25 GB per month for £20 in specific countries like France, Spain, Italy, Switzerland, Scandinavia and the US.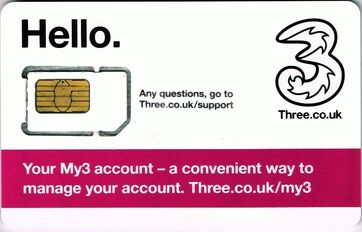 Three
Issuing Country Edit
United Kingdom
+44 7## ### ####
Roaming Option Edit
Feel At Home (doesn't need to be activated)
Feel At Home allows you to use your plan features while roaming in Europe and many other countries at no extra cost. Check their website for a current list of Feel At Home destinations. Note that if you spend a significant amount of time roaming in a Feel At Home country, they may take notice and charge you additional fees (if roaming in Europe), or suspend roaming service altogether (roaming outside of Europe). Their website states that within Europe, they look at your usage over a 4-month period and, if it seems you're mostly outside the UK, they will impose additional fees, giving you a 2-week notice beforehand.
For roaming in Feel At Home countries outside of Europe, which they refer to as Feel At Home Around the World destinations, they may suspend service if they see you have been roaming more than 2 complete months in a rolling 12-month period. Again the website states that they will warn you first if this is likely to happen.
Take care, roaming in other countries may still be possible, but at much higher rates!
Traffic seems to be deprioritized in the UK and has a long latency with triple digit ping times usual for roaming solutions as they are routed through UK servers. No 4G/LTE roaming available yet, only 2G and 3G.
Price for data Edit
Within a Feel At Home country and the UK Edit
The prices for data are exactly the same as for UK domestic use. Speed abroad is 2G/3G up to HSPA+ and up to 4G/LTE in the UK. You must book a data allowance on your SIM card before use. All data overuse is charged at £0.10 per MB. They have three different prepaid tariff lines:
(1) Pay as you go SIM: Edit
Internet Daily Pass - 120 MB for 24 hours: £0.50
500MB Mobile Internet Pass - 500 MB in 30 days: £5
All-in-One 10 - 1 GB for 30 days: £10
All-In-One 20 - 12 GB (from 15 June 9 GB in roaming) for 30 days: £20
Their pay as you go SIM is intended to be used in smartphones only. Three bans the use in tablets and modems and tethering. If they detect it, they deactivate data by blocking.
(2) Mobile Broadband Pay as you go SIM: Edit
These starter packs are sold:
3 GB for 3 months: £16
12 GB for 12 months: £30
Use their Mobile Broadband Pay as you go SIM for tethering, which has voice and text too, that should only be used in tablets and modems, but works in phones too. Both tariff lines can't be mixed or switched. You need to make up your mind before you buy the starter. These add-on packages are offered for the Broadband PAYG SIM:
500 MB for up to midnight on the next day: £2.99
1 GB for 30 days: £10
3 GB for 30 days: £15
7 GB for 30 days: £25
(3) Data Reward Pay as you go SIM: Edit
This new special SIM is sold at £10 with 1 GB preloaded for 30 days and has voice and text too. It gives 200 MB per month for free which can be used also for roaming. Furthermore, same rules as for other Mobile Broadband SIMs apply. These packages can be added to the Data Reward Line:
2 GB for 30 days: £15
5 GB for 30 days: £20
10 GB (from 15 June 9 GB in roaming) for 30 days: £25
Outside of a Feel At Home country Edit
Take care: much higher prices apply outside a "feel at home" country, where roaming is still possible.
Voice rates Edit
Update: From June 2017 in EU roaming all voice calls within the roaming country, to the UK and another country in the EU/EEA roaming zone is charged like a domestic call. This policy doesn't apply to calls in other roaming countries where only calls to the UK are charged domestic.
Availability Edit
The Three Pay as you go SIM card is an UK-issued SIM Card.
Within the UK Edit
Three only sells the starter pack for free in the UK in their 3stores and further outlets and doesn't send it abroad.
Outside of the UK Edit
Online vendors distribute it worldwide on ebay.co.uk, Amazon and other platforms for a surcharge. They will send it to any address abroad, which is totally legal in the UK.
Registration Edit
SIM cards from the UK don't need to be registered. They arrive already activated.
Roaming should be enabled by default. If not, call +44 843 373 3333 to enable international roaming which you need to access your online account.
Managing the SIM card Edit
To login your "My3 account" on www.three.co.uk you need to sign in to your account first. A verification SMS is sent out with your password to your mobile number. On the "My 3account" you can book the UK data allowances which are valid in all other "feel at home" countries without surcharge. There you can check your remaining credit and data consumption too.
The "Feel at Home" option is normally activated by default and becomes active as soon as you enter one of the mentioned countries and log on a roaming network. This is normally confirmed by a message from Three.
This is actually the most restrictive part of this SIM right now, as there are no free top up choices for the most of us.
In the UK Edit
Being in the UK, you can easily buy Three top up vouchers from £10 to £50 at many locations. You get a 16-digit number, which you can enter online in your My3 account or after calling 444. You can even buy as many vouchers you need in advance, as there is no expiry date for them as soon as you have added them to your account.
In the UK or from abroad Edit
Having an UK-issued and -registered credit or debit card, you can easily top up online from abroad on your My3 account. But beware: Non-UK credit cards are not accepted!
So the rest of us are confined to a few online agencies which do top ups for a surcharge of 10-20%. Some accept PayPal and other international payment systems. If you are asked for an UK address, just give any hotel address you can think of. On ebay.co.uk you have to look for "Three UK top-up voucher". Some merchants sell you the top up for about 15%: £10 for £11.50 or £15 for £17. Transcom Telecom for instance only charges 10% more here: http://www.uksims.eu/buy-top-up/. The most 3rd party agencies use PayPal as a payment system. So you need to have a PayPal account for them.
That's how Three UK tries to prevent the use of their SIM for people outside of their home market. It is still very hard or pricey to buy a top up for non UK-citizens outside of the UK. So it's a good idea to buy a preloaded SIM card or vouchers if you are in the UK or know anybody with an UK credit card. But even with 10% surcharge, it's still a good deal for data.
Expiration policy Edit
If you want to keep your SIM card for another visit, it's important to know the expiration rules.
Any credits loaded to Three SIM card never expire. The whole SIM card and subscription will stay valid if there is some activity as long there is some activity (as low as incoming or outgoing SMS message) within every 6 month. So one SMS per every 6 months keeps your card and funds valid. Their rules are quite lax, but check the other restrictions below.
Restrictions and drawbacks Edit
If you intend to use Three UK primarily for it's roaming option, be aware of the restrictions:
Feel at Home is intended for Three customers who are visiting one of the destinations for short trips, like holidays or business trips. Three has implemented measures to prevent long-term use of the Feel At Home international roaming option. These measures differ according to whether you're roaming in Europe or elsewhere in the world:

Within Europe, they look at your overall usage and locations over a 4-month period. If it seems you're mostly outside the UK, they will warn you with a notice 2 weeks in advance that, if you do not change your usage, you will incur roaming surcharges.
Outside of Europe, if you roam in a Feel At Home Around the World destination for any 2 complete months in a rolling 12-month period, they may suspend or even permanently deactivate international roaming on your account. Their website states they will let you know beforehand if this were likely to happen, but it doesn't give specifics. If this occurs, you'd still get service in the UK, but it may not be possible to reactivate international roaming.
Three doesn't allow tethering abroad and doesn't give out a tethering profile which you need to create a mobile hotspot on an iPhone. On Android devices it may still be possible on Mobile Broadband SIM cards only. Three is starting to clamp down on Pay-as-you-go SIMs used as a mobile hotspot using DPI (Deep Packet Inspection) and shuts it off.
Some users reported throttling of speeds in video streaming and uploading/downloading from clouds or file hosters in some roaming countries. Also as a UK SIM card the "Content Block" (see Basics in the UK chapter) may be applied even outside of Britain and refers to non-adult sites as well.
Speed has become quite slow recently. It seems to be deprioritized and is routed through UK servers. This leads to a long latency with high ping times. No 4G/LTE roaming yet, only 2G and 3G.
Finally, you can't use any included minutes allowance to make calls to local or other international numbers, as you can only use your inclusive minutes to call UK numbers, whether you're in the UK or a Feel At Home country.
Be aware that without an UK-issued credit or debit card, you will pay surcharges for topping up from outside of Britain
Roaming data offers in other 3 networks Edit
Hutchison Three offers cheap roaming data in their other networks too, but no offer matches the UK SIM right now:
3 in the Republic of Ireland offers free data roaming in all 3 networks of Italy, Austria, Denmark, Sweden and the UK (details see Hutchison Three in the Ireland section) and calls it "Three like home",
3 in Italy has now changed their roaming offer to "Europe Pass". 500 minutes and 500MB of data is available to use every week for a €0.30 connection charge. This charge applies every time a new data connection or call is made (or every time a data connection lasts longer than 6 hours), and because losing signal and reconnecting is considered a new data connection, it is recommended to manually select a network known for solid coverage now that you are no longer limited to 3.
3 Hong Kong's "International" 14-day prepaid SIM costs HK$328 and comes with an equivalent amount of credit. There are two options for initial activation, depending on whether you need Switzerland:

HK$288/14 days: unlimited data on European and Macau 3 networks, Vodafone in Germany, Greece, the Netherlands and Spain, T-Mobile in the Netherlands, as well as Orange in France. It also includes Rogers in Canada.
HK$308/14 days: Includes the above and 150MB usage on Sunrise in Switzerland

3 Indonesia offers an "Internet Roaming Australia + Europe" package on its prepaid SIMs that covers 3 networks in Italy, Austria, Denmark, Sweden, the UK, and Ireland as well as Vodafone Australia at a flat rate for unlimited usage (there is a FUP but details are not given).

5 Day Roaming Package: 45000 IDR
10 Day Roaming Package: 80000 IDR
Be careful, usage on other networks will be charged at 330IDR/KB, so make sure to manually select 3 (or Vodafone in Australia) on arrival.