UPDATE JUNE 2017:
Please be aware that this article will not be updated anymore. It's out-dated as in June 2017 Vodafone implemented "roam like at home" international roaming without surcharges all over the EU/EEA, discontinued the old roaming option and introduced new packages. Check the Ireland article for updated details. This site here is only kept for a while for the additional info it's giving to Vodafone Ireland users.
Vodafone Ireland with RED Roaming optionEdit
Verified in February 2015 in Germany. Video: on youtube.
Vodafone Ireland gives out 200 MB per day based on Irish (GMT) time for €3 in Europe (€2 in the UK) , the US and Canada. Special domestic rates apply for Ireland, no base rate is charged.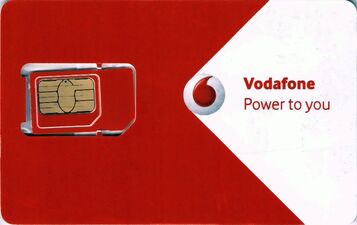 Network: Edit
Vodafone
Issuing Country: Edit
Rep. of Ireland
+353 8## ### ###
Roaming Option Edit
RED Roaming (needs to be enabled)
Validity Edit
Valid in all EU and EEA member states, additionally in Albania, Switzerland and Turkey, the US, Canada; South Africa, New Zealand, Australia, Hong Kong, India and Egypt. In other countries roaming may be still possible, but at higher rates.
Roaming networks Edit
RED roaming is only possible on Vodafone and its "preferred partner" networks. That means that you mostly have only one network per country available. But Vodafone has in most places quite good networks. List of Vodafone and partner networks. Only on 2G and 3G with full speed, no 4G/LTE roaming yet, but already announced for later in 2015 on some selected Vodafone networks.
Price for data Edit
Within the RED roaming option: Edit
200 MB high speed volume in 2G and 3G data (up to DC-HSPA+) within a calendar day based on Irish (GMT) time:
€1.99 in the UK and Northern Ireland
€2.99 in the rest of EU/EEA, Albania, Switzerland, Turkey, the US (on AT&T) and Canada (on all major networks)
€4.99 in Hong Kong, South Africa, New Zealand, Australia, India and Egypt
Vodafone is very rigid about their 200 MB threshold. It is not expandable and for overuse they charge decent 6.15c/MB in Europe, 12.3c/MB in North America and steep €3.69/MB in the rest of the world.
This SIM is especially appealing for Switzerland and Turkey which can be very tricky countries and the US on AT&T and the normally quite expensive Canadian networks too. What the "rest of the world" countries are concerned, you should better buy a local SIM card there.
Outside of the roaming option: Edit
Take care: much higher prices apply outside their RED roaming option, in countries where roaming is still possible.
Domestic Use in Ireland: Edit
Special data rates are valid for Ireland: Default rate is €1.99 per day for 100 MB, then €1 per MB thereafter. For Ireland you can buy a monthly package of 500 MB for €5 or 3 GB for €15 on 4G/LTE too. The RED roaming option doesn't apply here.
Voice and text rates: Edit
Voice calls and text (SMS) are included for free in the package within the roaming country and to Ireland. A FUP of 1000 minutes and 1000 texts per day applies. Note that texts or voice to and from a 3rd country (other than Ireland and the roaming country) are not included and are charged at standard international rates.
Availability of SIM Card Edit
This Pay-as-you-go card is an Irish-issued SIM Card. Vodafone Ireland only sells it in the Rep. of Ireland in their stores and doesn't send it abroad. But online vendors distribute it worldwide on ebay and other platforms, which is legal in Ireland. Just get any pay-as-you-go SIM of Vodafone Ireland which doesn't come with a base rate.
In Ireland: Edit
in Vodafone stores across Ireland. All Irish SIM cards are free of charge when purchasing credit right away.
Outside of Ireland: Edit
online, dealers charge you for shipping around €10, but it will be delivered to your postal address. Some SIM cards are preregistered on a Vodafone account. Then you will get a login (phone no.) with password. Others are not registered at all.
just look for "pay as you go Vodafone Ireland" in a European search on Ebay. Some merchants actually call it the "cheapest roaming option in Europe". But be sure tu get an Irish Vodafone SIM card, not an UK-issued one which is mostly cheaper, but doesn't have such a good roaming option (see below).
Registration Edit
Like in the UK, Irish SIM cards don't need to be registered to be activated. But you should better open an online account on Vodafone Ireland to manage the card and top it up. For this you need to sign up on their website here.
Starting up Edit
Offline and online mini-, micro- and nano-SIMs are available. After purchase and registration they are activated, have a PIN and PUK on its cardholder, an Irish number ([+353] 8## ### ###) attached to it and roaming is activated by default. So take your phone, be sure to deactivate data first, but activate roaming, put in the SIM, type in the PIN, the SIM should connect to a Vodafone roaming partner abroad right away.
Activating the RED Roaming option Edit
Now you have to activate the RED roaming option. Unlike roaming, this option is not activated by default. But this has to be done only once. Either text "RED" to 50020, but this may not work on an roaming network. Better do it online on your Vodafone account on "your roaming options".
Now the SIM is configured. For roaming, be sure to activate data roaming, check the APN (live.vodafone.com) and ignore the warnings of your phone about possible charges.
When you are entering a RED roaming country, you will get a message from Vodafone that you can choose to stay on RED roaming (if activated before) or change to regular roaming, what of course you shouldn't do, even if you have then more networks available.
There are several ways to top up your account, again depending on where you are:
In Ireland: Edit
Just go to any supermarket, kiosk, petrol station, newspaper stand etc. and get an Vodafone top up voucher. The scratch cards work from abroad too, but vouchers of Vodafone networks other than Ireland don't work.
In Ireland and from outside: Edit
Vodafone Ireland is very relaxed with all international credit cards and not like its UK mother. You can top up on their website with international Mastercard or VISA but only if you have opened an online account before. Minimum top up value is €10, maximum is €100.
Checking data consumption Edit
You can always check your credit and consumption online on your account.
Expiration policy Edit
If you want to keep your SIM alive, the expiry rules will be important to you.
When you top up, you can make calls for 6 months and receive calls for 8 months since last recharge. After 8 months your loaded credits will expire. The whole plan and SIM card will be terminated after about a year.
Their T&Cs need to be shown, as you may disobey one or two of them. It's up to you if you want to take the risk:
"Data cannot be used for the purpose of Tethering. Data bundle cannot be used for tethering on iPhone devices, this usage will be charged separately." In practice tethering works from non-iOS devices, but not from the iPhone in lack of a tethering profile not given out by Vodafone.
"RED Roaming is designed to be used by customers normally domiciled in the Republic of Ireland. To avail of RED Roaming, pay as you go customers must be active on the Vodafone Ireland network during the previous three months." In practice, RED Roaming is activated on every new prepaid SIM card without waiting time.
"Customers who do not have ongoing usage on the Vodafone Ireland network will be deemed to be in breach of these terms and will result in removal of RED Roaming from their account and/or termination of service at Vodafone's discretion."
So you may have to disobey their T&Cs a bit. Normally, you won't have problems. The utmost thing they can do is to switch you off and terminate your service. But this is very rare and have not been reported yet. If it happens to you, please inform us.
Offers by other Vodafone networks Edit
There are offers of other national Vodafone networks too. The offer of Vodafone Italy is shown at the bottom of the page here. But you cannot get it before you go to Italy in person and purchase a SIM card on location.
Vodafone in the UK offers 100 MB for GBP 3 within the EU/EEA for all their pay as you go SIMs. This offer is twice the price of the Irish SIM and includes less countries.
Ad blocker interference detected!
Wikia is a free-to-use site that makes money from advertising. We have a modified experience for viewers using ad blockers

Wikia is not accessible if you've made further modifications. Remove the custom ad blocker rule(s) and the page will load as expected.