UPDATE JUNE 2017:
Please be aware that this article will not be updated anymore. It's out-dated as in June 2017 Orange implemented "roam like at home" international roaming without surcharges all over the EU/EEA, discontinued the Go Europe option and introduced new data packages. Check the Spain article for updated details. This site here is only kept for a while for the additional info it's giving to Orange Mundo users.
Mundo SIM by Orange Spain with Go Europe optionEdit
This combination has been verified in May and June 2014 in Spain, Belgium and Norway.
Orange Spain gives out 100 MB data within a calendar day based on Central European Time (UTC+1) for €1 in the EU/EEA with special rates for Spain in up to 4G/LTE speed. For each 100 MB more, another €1 will be charged, as well as for each extra day. There is no charge, when no use.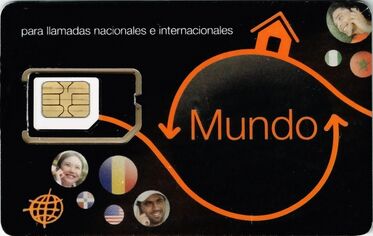 Network: Edit
Orange
Issuing Country: Edit
Spain
+34 6## ### ###
Roaming Option Edit
Go Europe (needs to be enabled)
Validity Edit
Valid in all EU and EEA member states in all data roaming networks with the Go Europe option enabled.
Not valid in Switzerland, North Cyprus, Andorra which are not part of the EU nor EEA (see map) and in Gibraltar.
Roaming networks Edit
Orange has many roaming partners throughout Europe. Of course, it prefers its own Orange networks, but is on Telekom in Germany, EE in the UK and many more partners. Generally two or more options are available for every country. So you have a great variety of networks to choose from, though Vodafone is mostly excluded. Roaming is on 2G and 3G networks up to HSPA+ speed. If you have bought a newer 4G SIM in Spain and booked a domestic data package before enabling the roaming option, roaming will be extended to 4G/LTE networks in most EU countries.
Price for data Edit
Within the roaming option: Edit
100 MB high speed volume in 2G and 3G data (up to HSPA+) within the same day until 23:59 UTC+1 (= Central European Time) for 1 € (tax included). If you need more data within a day, another €1 will be debited, which will be valid until 23:59 UTC+1 (= Central European Time) on the same day. If there is no use on a calendar day, there will be no charge as there is no monthly base rate or minimum on the Mundo tariff.
Outside of the roaming option: Edit
Take care: higher prices apply outside the EU or EEA, where roaming is still possible.
Domestic Use in Spain: Edit
Special data rates are valid for Spain: Here you can buy a monthly package of 500 MB for €6, 1 GB for €9 or 2 GB for €15. The roaming option doesn't apply here. 4G/LTE is opened effective end of 2015 in Spain.
4G/LTE roaming: Edit
Since end of 2015 Orange enables data in Spain and on roaming in most countries on 4G/LTE networks too. For this you need to:
have a new 4G-enabled Orange SIM card (Orange charges €7 for swapping an old one)
have a LTE-capable device (on the LTE frequencies used in that country)
be in one of the countries where Orange has 4G/LTE roaming agreements (check this list)
of course need to have 4G/LTE coverage on location
and have booked a domestic package for Spain. if you don't want to pay for a domestic plan, you can select any plan which price is more than the balance on your account and you will be never charged for it (because you do not have enough balance), but still LTE will be activated. E.g. activate "Ballena 12" for 12.95€ and always make sure your credit balance is not more than 12.00€.
So don't count on 4G/LTE roaming being available to you, if you don't fulfill all conditions.
Price for voice Edit
As soon you activate the Go Europe option for data, the voice option is active at the same time. This card is not so good for voice roaming, as it roams only for calls and SMS within the roaming country and to Spain. Outbound calls to other countries are not blocked, but are not included in the free minutes.
1 € for up to 60 minutes within the same calender day for all calls incoming and outgoing. For calls within Spain, domestic rates apply. If you use it for longer, another 1 € will be charged. No charge on days without any voice calls (incoming and outgoing).
So it's only a good rate if you are sure to only use it for some minutes per day and your calls stay within the roaming country or go out to Spain. For other destinations, you should consider VoIP instead.
Availability of SIM Card Edit
The Mundo SIM is a Spanish-issued SIM Card. Orange Spain only sells it in Spain in their stores and doesn't send it abroad. But online vendors distribute it worldwide on eBay and other platforms, which is legal in Spain.
In Spain: Edit
in Orange stores in Spain the SIM is free, but you need to top up at least €10-15 as credit.
Outside of Spain: Edit
online, dealers charge you for the registration and the shipping around €5 to €15, but it will be delivered to your postal address abroad already registered and activated.
Just look around on eBay (on a worldwide search) and other platforms for a "Mundo SIM" or any other prepaid SIM of Orange Spain. Keep in mind that some offers may have both real balance and so-called promotional balance ("x+y € saldo") that cannot be used for roaming, but only domestic in Spain.
Registration / Activation Edit
All SIM cards in Spain need to be registered before activated on your name and your home address.
In Spain: Edit
in Spanish stores you need to show your photo ID (passport or national ID card) and give an email address.
Outside of Spain: Edit
for the registration by online vendors you need to provide them your ID number and birth date additionally to your postal address. The merchant will do the rest for you.
Starting up Edit
Offline and online mini-, micro- and nano-SIMs are available. After purchase and registration they are activated, have a PIN on its cardholder, a Spanish number ([+34]6## ### ###) attached to it and roaming is activated by default. So take your phone, be sure to deactivate data first, (but activate roaming if you are out of Spain), put in the SIM, type in the PIN, the SIM should connect to Orange Spain or one of its roaming partners abroad right away and texts you welcome messages in Spanish.
Managing the SIM card Edit
For this part you need to have the SIM in your phone having phone connection and another device connected to the internet. Go to www.orange.es or www.simmundo.es on the web. There proceed to "área de clientes – mi orange" . To obtain you password called contraseña you have two ways:
open this site: https://areaprivada.orange.es/ecare/pub/user/password.htm and enter your phone number in Spanish format (6## ### ###) in the blank field at no. de teléfono and click on solicitar contraseña. You will get a code as a password texted to your number for the access to your mobile account.
or you can set a password by texting "CLAVE ********" to 222 from your Orange SIM. There you have to set for *** etc. a 6-8 digit number as code or password. You will receive a confirmation SMS and can use this code as password then. This way is often not supported through roaming networks,
Enter in you log in form the phone no. in Spanish format (69# ### ###) and your password you can enter at Acceso con contraseña on the main page at mí Orange. The same access code works for their app (see below).
You are now in the client's area (aréa de clientes) that has been renewed recently. On top you see a menu and below your credit called saldo in EUR and your tariff which should be Mundo without any MBs. If you are on another rate, then change to Mundo (without data) by going to sub-menu Contrata clicking the orange "cambiar tarifa", selecting this option and confirming the selection. This is exactly the way to book domestic data allowances for Spain by changing your tariff to a monthly package of 500 MB, 1 GB or 2 GB. Don't forget to reset when leaving Spain.
Some users have faced a small monthly fee without any usage. To avoid a minimum charge better 'park' your SIM card on the 'Ardilla' (squirrel) tariff so that no fee is deducted. You can change back anytime to Mundo.
Activating the Go Europe option Edit
Now you have to activate the "Go Europe" option. Unlike interntl. roaming, this option is not activated by default. But this has to be done only once.
The easiest way to activate is via SMS. To do this you must send a text to 22095 with the words "ALTA DIA". You should get a verification text almost instantly saying that the activation was successful (in Spanish).
Alternatively, you can do it online: For this stay on "Contrato" submenu, go to section "Modulos de Ahorro" (savings modules) and click "cambiar". Then you see in "Ahorra en el extranjero" the Go Europe option. Click on "activar", check the first box which appears and confirm selection by "confirmar". This should be reconfirmed by Orange sending a text message. Now the SIM is configured and the EU roaming tariff active as soon as you enter a roaming network or country in the EU or EEA. For that, be sure to activate data roaming, check the APN (orangeworld), Username (orange), Password (orange) and ignore the warnings of your phone about possible excessive charges. The APN "internet" also works, the username and the password are as above.
Mí Orange app Edit
Orange provides an app for iOS and Android too. You can easily do all the mentioned steps above and check data balances through this app too. But it has two major disadvantages: it's in Spanish only and apps are hard to move to a translator. So it's only recommended, if you have some Spanish language skills. The other problem is geo-restriction: using it in Spain is easy, but in other local iTunes or Play Stores it's often not displayed and offered. iOS users can get it from another source, but you have to jailbreak your device. Android users get it from there too or here through this link. They only need to allow the installation of apps from unknown sources in the security menu first and be sure to scan it for malware. The app uses the same username and password as your online account.
There are several ways to top up your account, again depending on where you actually are:
In Spain: Edit
Just go to any supermarket, kiosk, gas station, newspaper stand etc. and get an Orange voucher of €5 or multiples of it. Some have direct load and you need to give your phone number. Some give out scratch cards with a 16-digit PIN. This must be entered in your phone: *122*<16-digit PIN># and <call>. The scratch cards work from abroad too, but vouchers of Orange networks other than Spain don't work.
Outside of Spain: Edit
Unfortunately, the fee-free top-up method through their website is now restricted to Spanish credit and debit cards. Holding a foreign card your top-up will most likely be declined.
all foreign card holders need to use 3rd-party top-up sites instead from now on, that may charge some commission:

on recharge.com also done by a Dutch company, you can top-up €5, €10, €15, €20, €30, €40 or €50 by credit card, PayPal and some debit systems for a flat fee of €0.99. However they are currently unable to recharge this card.
on mobilerecharge.com you can easily top up by credit card (even from Czech Republic), fee is about 25 %
on the international Orange top-up site you can top up €5, €10 or €15 by credit cards with about a 11% surcharge. This process is straightforward in English and needs no further explanation. However, they require to register on their website and enter some personal details.
there are many more 3rd-party agencies like e.g. Ding, which accept PayPal and international credit cards with a surcharge of 10-20%. Just look around on Google for Orange Spain top-ups for more options.
You can always check your Mundo SIM general credit by app, online in your "area de clientes", by typing *111# (5 times per month for free, but beyond charged at €0.18) or by calling 1470 if you understand a Spanish voice message. Data connection history and billing can be checked but is very well hidden. You need to begin in the client's area on the start page. Go back to this by clicking (inicio). On that click on "+ más info" on the right of your balance called "mi saldo" that leads to an extra page again called "Mi Saldo". On that click "listato de llamadas" then "pulsa aqui". Enter the applicable date (DD/MM/YYYY) desde/from hasta/until and check "datos" and click "confirmar". Finally a long table with your data billing history appears.
You will often be awarded promo credit (saldo promocional). Again, this can only be used for domestic calls or domestic data within Spain, but not for roaming.
Expiration policy Edit
If you want to keep your SIM card alive, the very flexible expiry rules may be interesting to you.
Loaded credits (and the entire SIM card subscription) valid for 365 days. So all you need to do, is recharge it at least for € 5 once per year.
Restrictions Edit
Tethering has been possible with this card in the past, but some users have reported blocking of data lately, if the SIM is accessed by several devices at the same time. This can be bypassed by using an internal VPN and route traffic through one device only.
On roaming, you can't place or receive voice calls to/from any numbers other than the ones in Spain or the country where you are roaming with this card. Quote:"I am currently in Paris and talked to the rep; I can only call within France and to Spain (Not even other countries in Europe!) This is a big dealbreaker!". This card is featured here for data use, not voice or SMS, VoIP however is possible.
Recently Orange has restricted all non-Spanish payment systems from online top-ups. So outside of the country you may have to use 3rd-party sites to top-up which incur a slight fee.
Ad blocker interference detected!
Wikia is a free-to-use site that makes money from advertising. We have a modified experience for viewers using ad blockers

Wikia is not accessible if you've made further modifications. Remove the custom ad blocker rule(s) and the page will load as expected.