This article is split now into two different parts. On this site you'll find the rules and regulations and their implications.They may be hard to read and comprehend. But it's very much recommended for you to understand the basic rules of EU roaming to make up your mind of which option is best for you.

EUROPEAN UNION - Rules and Implications
The good news first: most roaming surcharges within the EU will come to an end by mid-2017; the bad news: during a transition period in 2016/7 some roaming rates are going down, while others don't, and the situation remains very confusing for visitors and residents alike.
Travellers to or within Europe have found an annoying situation up to now: every country has still its own national phone system. This makes mobile phone use in Europe only pretty cheap, if you are using a SIM card issued in the specific country where you are staying. Compared to that, inter-European roaming rates used to be excessively expensive especially for data. 'Shock bills' were not that uncommon. This has been a special burden for travellers visiting multiple countries: to get a decent rate for data, one had to buy a new SIM card in every country you travel. Many users have been so afraid of high costs that they simply shut off mobile data use abroad.
That's why we started this WIKI. From now on you have more choice and from 15th of June 2017 most surcharges will be gone within the EU. Here is your guidepost through this transition period.
Legalities
The European Commission combats roaming charges through Regulation (EU) No 531/2012, subsequently amended by Regulation (EU) 2015/2120, which applies throughout the EEA (for European Economic Area). The EEA comprises the European Union (EU), Norway, Iceland and Liechtenstein. In the following text, the EEA is often referred as EU which is not totally the same, but much better known than the term EEA and therefore used instead.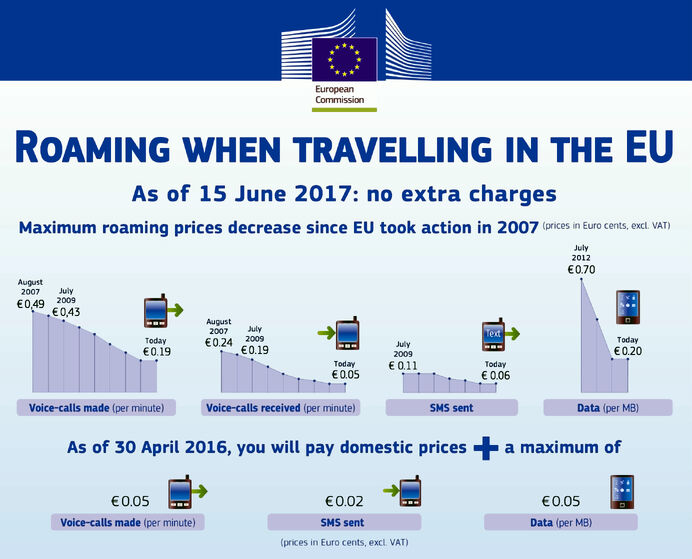 The EU commission claims that compared to 10 years ago retail prices across calls, SMS and data are more than 80% lower, data roaming is now up to 91% cheaper and the volume of the data roaming market has grown by 630%. However, this is only one side of the story.
Net Neutrality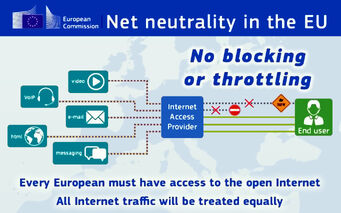 At the same time the EU commits to net neutrality: no blocking or throttling of online content, applications and services. Providers have been blocking Skype, Facetime or similar apps or sometimes have asked extra money for allowing these services: this will be illegal. All traffic will be treated equally. This means, that there can be no paid prioritisation of traffic in the internet access service. However providers are allowed a reasonable day-to-day traffic management according to justified technical requirements.
Validity Area
All EU roaming regulations are only valid in the countries of the EU, its dependent territories, some overseas areas and the countries of the European Economic Area (EEA). These countries are shown in green on the map and listed on the column right.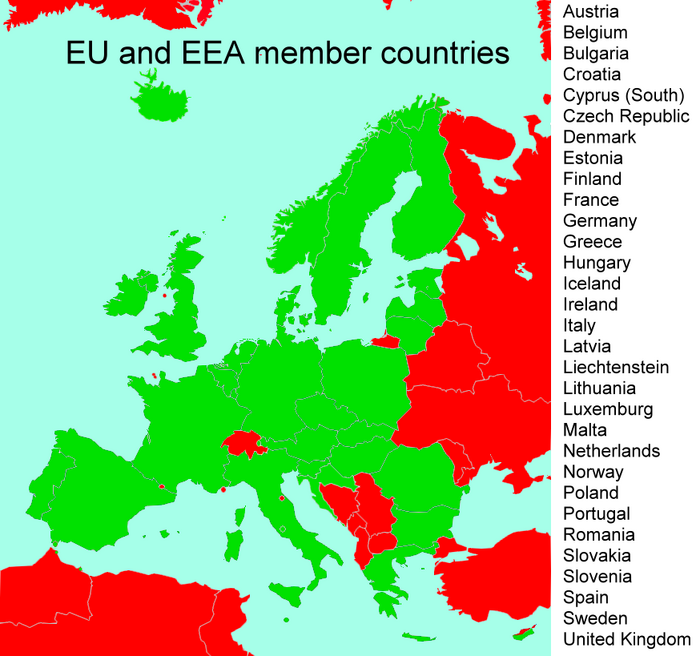 Not on the map are the Canary Islands as a part of Spain, Madeira and the Azores as a part of Portugal in the Atlantic Ocean and some French Overseas Departments in the Caribbean, South America and the Indian Ocean, where the EU regulations are enforced too.
As prices are not regulated outside, it's worth noting the areas in red: Switzerland is the most notable exception in Central Europe. In Eastern Europe, Russia, Belarus, Moldava and the Ukraine are not part. On the Balkans, Montenegro, Serbia, Bosnia-Herzegovina, Albania, Kosovo and Macedonia are out. And there a small red dots in Spain (for Andorra), France (for Monaco) and Italy (for San Marino) where you can be charged much higher too. Finally, the Channel Islands and the Isle of Man are excluded territories as well as the northern part of Cyprus and Turkey. Remember, if the UK decides to leave the EU in 2016, their status and that of its related territories like Gibraltar may then change too.
As this zoning creates many borders, remember being close to an red area, you should always:
on roaming: make a manual network selection
using your home network: disable data roaming
Shortcomings
There are 3 essential restrictions to the rules you should be very much aware of:
geographical: the EU rules only apply to all SIM cards issued in the EU by an EU provider, not to any provider or any SIM card issued outside. And they only apply to calls, texts from one EU country to another and data use. Not to calling/texting in from outside or calling/texting out from inside the EU. And there are still the gaps shown in red on the map above.
options: all EU providers are required to offer you at least one tariff, plan or roaming add-on compliant to the new regulated EU rules. They can also offer different packages, that can be cheaper or more expensive depending on your consumption. These further offers don't need to obey the EU rules. But you must agree to opt out of EU rules before by choosing a different plan.
foreign calls and texts: There is a weird destinction between calling abroad and calling on roaming. The EU regulation is only about roaming. So all IDD calls and texts from the home country of the SIM card even to another EU country are not covered by the legislation. The EU doesn't have a mandate for this. This absurd situation makes some foreign calls more expensive than using the same SIM abroad on roaming for vice versa calls. This gap only concerns calls or texts from the home country, where the SIM has been issued to anywhere abroad. Luckily, this doesn't concern data use: for internet you are either at home or on roaming as soon as you log onto the foreign mobile network.
EU Roaming Rates
effective 30/APR/2016 - 15/JUN/2017
The EU/EEA finally agreed on bringing roaming fees to an end in 2017 with a few exceptions, so that prices for roaming will be the same as domestic by mid-2017: The period of 2016/7 marks a transition along the way. It now combines price caps (= maximum charges) established back in 2014 with new maximum surcharges for roaming on domestic rates.
Here is a survey of the net regulated rates (also called 'Eurotariff') in 2016/7 before taxes:
Roaming Caps

(2014-)

max. Surcharge on

dom. Rates (2016-)

planned past

15/JUN/2017

voice

calls

incoming
1.114c per min (from 2016)
free
outgoing
19c per min
5c per min
domestic rate
texts

(SMS)

incoming
free
-
free
outgoing
6c per SMS
2c per SMS
domestic rate
data
20c per MB
5c per MB
domestic rate
Incoming means being called or texted while staying in a roaming country, also called passive roaming. Outgoing means calling or texting from a roaming country, known as active roaming.
All prices of the table above are excluding taxes. Each countries VAT or sales tax needs to be added. As in Europe - unlike America - final prices are quoted with taxes included, below is the same table again with a tax rate added of 20%. This is close to the average tax rate of EU countries and assumed for the rest of this article. The exact VAT rate of a certain EU country ranges from 17% to 27% in 2016 and can be checked here. In some countries they not only differ by region too.
Here is the same survey of the regulated rates in 2016/7 assuming a tax rate of 20%:
Roaming Caps

(2014-)

max. Surcharge on

dom. Rates (2016-)

effective price

range (2016/7)

voice

calls

incoming
1.3368c per min (from 2016)
max. 1.3368c/min
outgoing
22.8c per min
6c per min
6c ... 22.8c per min
texts

(SMS)

incoming
free
-
free
outgoing
7.2c per SMS
2.4c per SMS
2.4c ... 7.2c per SMS
data
24c per MB
6c per MB
6c ... 24c per MB
Outlook: Changes effective June 15th 2017
The end of (most) roaming charges within the EU is in sight for mid-2017. Effective June 15th 2017 roaming charges will be banned on all EU providers for the entire union. From then on, every EU provider needs to charge the same rate domestic and abroad on roaming within the EU for data, calls and texts.
However, a Fair Use Policy (FUP) will be enforced then to prevent what is called "permanent roaming". This FUP will have a still unknown time and/or volume quota, which is considered to be "fair" to occasional travellers. But users who try to use a SIM card from another EU country continuously in their home country on roaming will keep on paying some surcharges.
This is because of the huge differences in rates between some EU countries. The providers fear that users take a cheap plan from certain countries and use it permanently on roaming in an high-priced country. This would undermine the pricing there. So they will build some mechanisms to limit this usage. But for occasional travellers roaming will be a thing of the past in the EU from mid-2017.
What to do in the meantime?
Implications for voice users

All voice calls from the EU within now cost between 6c and 23c per minute (see table) on the regulated rate. Most providers will be at the lower end of the scale as domestic default rates for voice have come down considerably in the last years. EU voice rates resemble domestic call rates of about a decade ago. Being called on roaming becomes negligible too, because the new cap will be slightly above 1c per minute and is scrapped by some providers. As long as you don't talk for many hours and your rate is at the lower end, you will be OK to stay on roaming for voice, but remember the exception for foreign calls from the home country of the SIM abroad that is still (mis)used by some providers.
Implications for text (SMS) users
SMS is still the cheapest form of short communciation within the EU. It's now between 2.4c and 7.2c and sometimes even below domestic SMS rates. Like for voice, there is no need to switch a SIM card for SMS, but seperate charges for foreign texts sent from the home country abroad remain valid too and are often much higher. For most voice and text users within the EU, it will not be economical anymore to buy a local SIM card. As long as you have chosen a plan on the lower end of the given price range, you will be fine using this plan for roaming too. Of course, if you are planning to stay for long like all winter in Spain or visit this country frequently, a local SIM might still be an good option as you get a local number. 
Implications for data / mobile internet users

Any EU provider is not allowed to charge more than around 6c (tax incl.) per MB (or €60 per GB) on top of its domestic default rate for data roaming in another EU country. This will further limit the excess and brings down the cost of 1GB data on roaming from around €240 to €60 on some plans. Light data users will be fine with the new roaming cap, but heavy data users will still face high roaming fees.
Rates for Prepaid Roaming Data in the EU (2016/7):
Market Situation
In fact, in this transition period until mid-2017 there are going to remain steep differences how EU data roaming is charged between the providers. Anything from the price of a domestic package up to the already existing 24c/MB (tax incl.) cap, that stays still valid, is billed:

Very few operators have anticipated the abolition of roaming charges due in June 2017 by scrapping all roaming surcharges already. This is mostly done on high-value postpaid contracts so far and very rarely on prepaid.
Some operators will go down to 6c per MB, some single offers even slightly lower like 4-5c/MB on the regulated rate. This needs to be done when the default rate of the tariff is a package. In most countries you can find a prepaid offer at this price now.
Many operators still stay on an excessive default rate of up to 24c/MB for roaming. These rates remain unchanged by the new rules as they are based on an high domestic default rate for data.
Of course, every operator can still offer daily or monthly packages that disobey the EU regulation for you to opt in. These can be better deals based on your consumption. All our recommendations are based on such deals and slowly new packages are offered.
On most EU roaming prepaid SIM cards you are on a roaming rate between 6-24 Eurocents (tax incl.) per MB now. Even at the lower end of 6c/MB, you will be charged €60 per GB or 6 times as much as the domestic average (at around €10 for 1GB in packages), at the upper end even the usual excessive 24 times. So shock bills are not entirely over for data users yet (and this WIKI is still needed), but most SIMs will shut off your data having reached a certain limit to avoid this.
Your choices as data user
As a data user roaming in the EU you have essentially three options now:

To stay on your home SIM card issued in the EU and use it on roaming. This is by far the most convenient way. You can keep your number and don't have to care about other plans, start-up procedures, or any local offers or particularities.

To buy a local SIM card instead. This has been our general advice as (1) used to be so expensive. But it involves some efforts and knowledge of language and local particularites. It's the only valid advice to give for destinations outside of the EU because international offers are still so overpriced.

To buy some special 'roaming SIM cards' from EU countries
with low rates that are featured here in this WIKI as a mixture of (1) and (2). They may have cheaper rates than your home SIM (1) on roaming, but are often more expensive than buying a local SIM (2). They are meant as an option especially for users travelling several EU countries.
For a visitor to a certain EU country it's basically the choice between:
staying on your home EU SIM plan or
buying a new local SIM.
Or for travellers this translates into the question:
Can I just buy a SIM in the first EU country that I visit and keep on using it in the next country? Or should I better buy another one there?
Unfortunately, there is no easy answer now. It all depends on your data consumption (and may be your complacency).
As a rule of thumb: For light data use on a one-time visit to a certain country, you are better off using your existing EU SIM on roaming. For heavy data use or frequent visits to this country, you should better buy a local SIM instead.
The borders between light and heavy data use are very hard to determine as they shift from country to country. They have always been there, but were so low before, that the general advice of buying a local SIM was given. The new legislation has certainly lifted this limit. Prelimilary analysis of our countries chapters have shown that in most countries of Western Europe you can get a starter pack and around 1 GB of data for about €10 or the local equivalent, in Eastern and some Northern European countries for about half that price.  
Whatever your choice is, all three options require special attention. For option (2) advice is given in each country's section, for option (3) in the special article here (LINK). If you go for option (1) and decide to stay on roaming, try to limit your data traffic:
choose a SIM card with a low EU roaming rate, rather like 6c or less than 24c per MB
avoid all unnecessary traffic: shut-off all updates and postpone all major downloads
try to shut-off all synchronizing and apps that you don't really need for the moment
control your consumption by using a data measure tool or app built in every smartphone
check which app is drawing the bulk of your data traffic and if that's OK  
if you don't use messengers, shut-off data alltogether and switch it on only when you need it
refrain from data-consuming activites like streaming, videos, audios, p2p etc. and use data-saving ways instead like compression of large files
If you decide to go for option (3) instead, we have listed special national SIM cards that offer cheap roaming options for the EU (or parts of it) in a special article now:

For roaming SIM cards click on the banner above.
----------------------------------------------------------------------------------------------------------------------------------------------------------------------------------------------------------------------------------------------------------------------------------------------------
BREAK - second article
----------------------------------------------------------------------------------------------------------------------------------------------------------------------------------------------------------------------------------------------------------------------------------------------------
The EU article is now split into two different parts. On the previous site you'll find the rules and regulations and their implications. It's very much recommended for you to understand the basic rules of EU roaming to make up your mind of which option is best for you, before you choose any offer listed below.

EUROPEAN UNION - Roaming SIM Cards for Data
The good news first: everyone in Europe can benefit from lower roaming rates in the EU getting data roaming at domestic prices; the bad news: during a transition period in 2016/7 only some operators offer these low prices while others still charge excessive surcharges. As the situation remains very confusing for visitors and residents alike, we have chosen some national offers to be featured as recommended SIM cards for data roaming in the EU.
In the previous article three options were shown for EU roaming:
to stay on your home SIM card issued in the EU and use it on roaming
to buy a local SIM card instead
to buy some special roaming SIM cards from EU countries
This article is devoted entirely to the third option. As outlined before this option is recommended for:
users who want to use higher data volumes making it too expensive on their home SIM card
travellers who want to visit not only one country, but several countries in the Union making it very inconvenient to buy a local SIM card everywhere
First EU Data Roaming Offers without Surcharges
Even before the new roaming rules have been implemented in April 2016, first roaming offers appeared on some European markets. EU data roaming have been given out without additional roaming fees for the same price as domestic data, mostly on high-valued postpaid plans. But first prepaid offers showed up too. This survey has been one of our most popular sites. Now more operators are joining as all surcharges have to be scrapped finally by June 2017.
While international SIM cards are still overpriced for data (see international section), they come from national operators in the EU mainly targeted to their local customers. With a few tricks they become accessible to everyone outside of the issuing country too.
The basic idea is, to take the cheapest roaming offer from any local European provider and use it as a multi-national roaming plan for the EU/EEA. The problem is, that the providers just want you not to do this and have set up some hurdles. With some knowledge and experience, you can easily bypass these.
This how they still try to "protect" their product from "misuse" by foreigners:
Availability: SIM cards are only sold and sent in the issuing country. Bypass: On eBay or Amazon merchants sent it abroad for a small surcharge.
Registration: SIM cards of some countries need to be registered first to be activated. Bypass: In some countries merchants do it for you, in a few it's simply done online, in others it's still not necessary.
Management: online accounts are only written in the local language. Bypass: For some countries you can use a translator (app/software), other sites can be switched to English.
Top-ups: They want certain local payment systems to top-up your SIM card. Bypass: We tell you how it's done online from abroad.
Validity: They think of rules which make it hard to keep your SIM card alive for using it again when returning. Bypass: We show the rules and how to prolong SIM life.
T&Cs: They ban lots of things in their small print. Bypass: You simply should not care. The utmost thing they might do is to switch you off, but this is rare.
New Rules for this Article
In 2016 there are still many overpriced "offers" around charging you a lot extra for roaming. A 1GB data package is sold in the EU for about €2 to €20 depending of the national market. So the price for a MB in a bundle ranges from 0.2c to 2c. This is the range we'd like to see and not the official cap of around 24c per MB! So we only take out the low-priced fragment from our graph of the first article.
We have established special rules (LINK) to be listed here. It really comes down to this: the SIM card must offer are rate, plan or add-on for the EU or major countries within that is on par with domestic rates for data. A limit of 2c per MB in packages or 3c/MB on a per-MB rate is enforced as MB-based rates have a much better billing than data sold in bundles.
We've found some more SIM cards in 2016 with EU roaming options that qualify for this selection and are presented in detail with their pros and cons for you to make up your mind. This section below is for advanced users who have already some experience in using foreign SIM cards.
Have in mind, that roaming rules will be changed twice in 2016/7 and offers change rapidly. We'll try to keep it updated throughout the transition. Offers that come new to the market need to be tested and confirmed by users first. So please help us with your experience and suggestions and add your feedback to the comments section.
New Order
The offers are now divided into 2 different categories according to their registration scheme. In some EU countries you need to show up on location with a valid photo ID to buy a SIM card. Obviously, there is no online market for them. In most other countries there is no registration mandatory or a scheme enforced that enables you to activate your SIM online. This means that you can buy SIM cards from the latter countries online without being physically there. So in the first part SIM cards are shown that can either be bought online (e.g. on eBay) or in the issuing country, while in the second part you can only buy the SIM during a visit to this country. But this can still be a good option, if you start your journey there and travel on.
Because of security concerns of unaccounted prepaid SIM cards in some of the "open" countries a tightening of registration rules is discussed. This can lead to some countries moving in the second category soon.
Daily Plans
Plans that give you a by day charge have the advantage, that you are not billed on days when you are not using your service. They can be convenient when you have a short trip or another source for the internet like a WiFi available from time to time. Using a per day plan, you should be sure to need a least 50% of its given allowance as you will throw away the rest unused.
Orange in Spain has still the best daily plan available with their "Go Europe" option. An alternative is Vodafone Ireland with their RED roaming pass. It's much stricter with a non-expandable 200 MB and 1/3 more expensive, but includes more countries like Turkey, Switzerland, Canada and the US. Finally, for the few users who need to have a very high data consumption on single days Vodafone Romania's Internet per Zi (Internet per day) can be an option.
Mundo SIM by Orange Spain with Go Europe option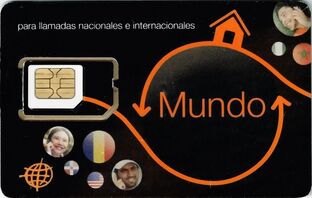 Orange in Spain is one of the big network providers there. On prepaid, you can combine every option of them. So you can take a "Mundo SIM" which doesn't have a base rate and add the "Go Europe" roaming option.
This one of the best options right now, if you use 50 MB to 1 GB per calendar day as it's very flexible and valid on all green countries on the map above (except Gibraltar).
Plus: good, flexible daily rate, automatic upsize, wide variety of roaming partners, up to 4G/LTE, one year's validity without activity, therefore easy to maintain.
Minus: SIM card needs to be bought and registered in Spain, online account in Spanish only, no roaming in Switzerland, not suitable for voice and text roaming.
Orange Spain gives out 100 MB data within a calendar day based on Central European Time (UTC+1) for €1 in the EU/EEA with special rates for Spain in up to 4G/LTE speed. For each 100 MB more, another €1 will be charged, as well as for each extra day. There is no charge, when no use.
To know more, click on the SIM card above or here.
Vodafone Ireland with RED Roaming option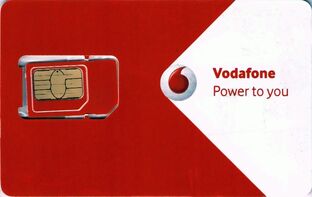 Like Orange, Vodafone is a major player in Europe. In Ireland they offer the cheapest option for their networks. You can book the "Red Roaming" option on any Pay-as-you-go SIM of Vodafone Ireland.
Plus: Good alternative to Orange. Turkey, Switzerland, US and Canada are included, English website and support, no registration necessary, no base rate, voice in roaming country included.
Minus: rigid data per day threshold, only Vodafone roaming networks, you have to disobey their T&Cs, option not upsizeable.
Vodafone Ireland gives out 200 MB per day based on Irish time (GMT, UTC) for €3 (€2 in the UK) in Europe, the US and Canada. Special domestic rates apply for Ireland.
To know more, click on the SIM card above or here.
Vodafone Romania with Roaming pe Zi (Roaming by day) option
Vodafone in Romania has the cheapest option for heavy users on Vodafone and partner networks in all of the EU/EEA and Turkey. The cheap domestic allowance from a data bundle can be used for a surcharge of € 3.99 per roaming day for a max. of 10 days on their 'Roaming pe Zi' option. Thus, 10 GB on a single day can be used for €13.99. For more details see Romania article.
Monthly Plans
They have the advantage that you can use your allowance freely during the time of your visit. They are recommended for longer trips and highly variable data consumption throughout. You will only throw away your unused allowance once at the end of the month. That's why you should be pretty certain of how much data you are going to need and select your package accordingly or prefer an expandable bundle instead.
Vodafone, Europe's largest mobile provider, has scrapped roaming surcharges on most of its postpaid plans. In Germany and the Netherlands they did the same on some of its prepaid offers. Combo packages from these two countries offer the best monthly options right now.
Vodafone Germany CallYa on a Smartphone Special plan
To be verified in May 2016. Alternative: Lidl Connect - but not sold outside of Germany.
Rates: Smartphone Special € 9.99 for 28 days including 750 MB and 200 mins or SMS. Add-ons: 250 MB: €4.99, 750 MB: €9.99, 2 GB €19.99.
Starter-packs with Smartphone Special included for 28 days available for as low as €4 on eBay.de
Vodafone Netherlands with YOU S, M or L plans or Data-only Blox
To be verified in May 2016.
Rates: YOU S - 200 MB (3G), 20 min/SMS: €5; YOU M - 500 MB (4G), 50 min/SMS: €10; YOU L - 1 GB (4G), 100 min/SMS: €15 for 30 days, Switzerland included. Online-only BloX: 1 GB (4G): €10
Tele2 and *bliep Netherlands EU Roaming packages
To be verified in May 2016 or later.
Packages: 100 MB: €2, 600 MB: €6, 1 GB: €10 - Switzerland is included.
Meteor Ireland with EU roaming package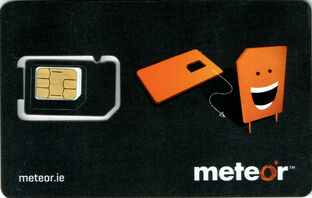 Meteor is one of the established providers in Ireland. They offer cheap roaming in all EU/EEA countries in different options.
Plus: all EU/EEA countries are included, English website and support, no registration necessary, no base rate, different roaming options available, easy to top-up and long card validity terms.
Minus: rigid data per day or month quotas, excessive overuse fees, hardly expandable.
Meteor Ireland gives out 1 GB per month for €14.99 in all of the EU/EEA. Special domestic rates apply for Ireland, no base rate is charged.
To know more, click on the SIM card above or here.
Ortel mobile Germany with Cross option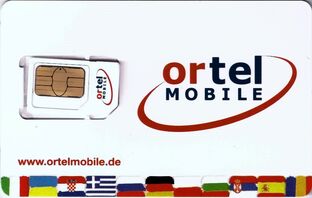 This is finally the first real pan-European SIM card from Ortel mobile in Germany. With the "Cross" option, you have all calls and data within the EU/EEA included on a monthly basis.
Plus: monthly package, Switzerland and Germany are included, free unlimited incoming calls and 5 hrs of voice calls outgoing within Europe too, broad variety of roaming partners, English website and support.
Minus: online registration obligatory with a German address, combined product for voice & data, but no SMS included, slow top-up and package subscription, complex validity requirements.
Ortel mobile gives out 750 MB and 300 minutes outgoing calls and unlimited incoming calls for €20 per month in all of the EU plus Switzerland, Norway and Iceland.
To know more, click on the SIM card above or here.
Further Plans and Promotions
These plans give only selected countries in the EU (and beyond) for a reduced rate. They can still be an option if your travels coincide with the offered countries. But you will pay regular EU roaming rates outside. Furthermore, these SIMs proved to be tricky for tethering.
Three UK with Feel at Home option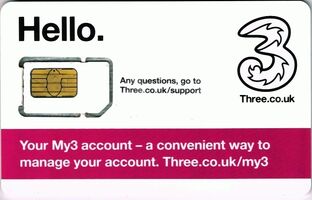 To the portfolio of all pay-as-you-go plans of the Three network in the UK, their "feel at home" roaming option is added. Thus, you can use data on all of their plans for their low domestic UK rate in some specific countries only and all incoming calls are free too.
Plus: different PAYG data packs available, incoming calls are free too, option is enabled automatically, English website and support.
Minus: only certain EU countries are included; you will have to pay a ~10% surcharge for top-ups, if you don't have a UK credit card, rigid T&Cs.
Three UK gives out foreign data at their domestic UK rate like 200 MB per month for free, 500 MB within 24 hrs for £3, 1GB/month for £10 or 12GB/month for £20 in specific countries like France, Spain, Italy, Switzerland, Austria, Scandinavia and the US.
To know more, click on the SIM card above or here.
Lycamobile with roaming packages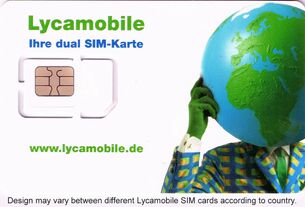 Lycamobile from the UK, which has local MVNO networks in 16 European countries, seems to build up a pan-European roaming network using their local infrastructure. Starting in a promotion, it gives out data roaming packages at different prices according to roaming destination. For 14 EU countries, price range is within the domestic rate charged at e.g. 12-15 € for 1 GB.
Plus: SIM card and package available in 13 Lycamobile countries, regular monthly roaming bundle, easy to subscribe, English website and support.
Minus: only certain countries included, some countries overpriced, no add-ons, no tethering, UK IP address, short SIM card and credit validity, still labeled as a 'promotion', APN gets often lost.
Lycamobile gives out roaming data in 14 European countries close to their domestic rate of e.g. €12-15 for 1 GB in roaming packages.
To know more, click on the SIM card above or here.
Tesco mobile UK - Summer Promotion: Home from Home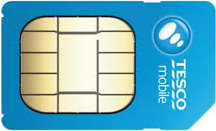 From May 23th until September 3rd 2016 Tesco Mobile in the UK scraps all roaming surcharges in the EU/EEA including Switzerland. Customers will be able to call, text and use data abroad without incurring any extra charges as long as they stay within their allowances. Any usage that does exceed normal included allowances will be charged at the the same rate as within the UK. More see UK article.
National Roaming Plans
The national roaming plans concern countries in the EU or outside where you need to be on location to buy a SIM card. There is no online market and no way to purchase a SIM without being physically there. This is because of strict registration rules. But they can still offer a valid option, if you start your trip there.
Italy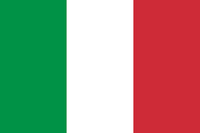 Three Italian providers offer good rates for EU roaming and beyond right now, even on 4G/LTE. But these SIM cards are not distributed outside of Italy. For purchase, you physically have to go to Italy for registration. Top-ups are not a problem and can be made from everywhere on the Italian website by internatl. credit card. So it's only an option, if you start from Italy. Furthermore, these Italian SIM cards have monthly base rates which only make sense, if you use them in Italy too. For more details see Italy section.
Vodafone Italy: Smart Passport and Internet Passport
Vodafone's "Smart Passport" add-on gives you 500 MB roaming data (beyond throttled to 32 Kbps), 25 (30) roaming or domestic minutes and 25 incoming minutes voice and 50 SMS for € 3 daily in all of Europe (= 47 countries including Turkey, not only EU), US and Canada. Lower allowances are announced past 12-Jun-2016. The daily rate is from 0-24 hrs Italian (= Central European) time. Furthermore, for data-only on tablets or modems their "Internet Passport" gives 1 GB in all of the EU/EEA and Switzerland for € 6 per day. On both plans, no charges will be debited on the days you are not using it. On both plans be sure to stick to APN 'web.omnitel.it' on roaming.
TIM: In Viaggio Pass
For lighter use, TIM's "in Viaggio Pass" gives 500 MB roaming data, 500 minutes incoming and outgoing voice and 500 interntl. texts in 10 days for € 10 within the EU and EEA (incl. Switzerland) and the US on APN: wap.tim.it
Tre: Europe Pass
500 minutes and 500 MB data per week all over the EU incl. Switzerland, as well as Israel, Australia, the US, Canada, China, Hong Kong and Sri Lanka for 0.30 € per call/data session (defined as one continuous connection up to 6 hours). Be careful: dropping coverage and reconnecting counts as a seperate session. So with a spotty network, this can add up considerably.
France
Free Mobile: Pass Destination
In France Free Mobile adds their 'Pass Destination' to all € 19.99 plans. It's only sold in France at their vending machines and includes 3 GB data in all of the EU, Israel, Canada and the US. You need to buy the 1 month only prepaid plan, not the recurring contract as roaming is limited to 35 days per year and can't be upsized. An € 10 fee applies to the SIM card. For details, check Free Mobile at the French article.
Luxembourg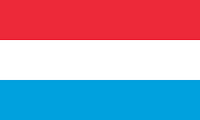 Orange: Go Europe
Like in Spain, to all prepaid SIM cards of Orange in Luxembourg their Go Europe option can be added. 100 MB per day for € 1, 300 MB per week for € 5 or 1 GB per month for € 15 in all of the EU/EEA including Switzerland in up to 4G/LTE speed. This SIM card is only sold in Luxembourg and has strict validity terms, see Luxembourg article.
Romania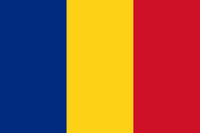 Vodafone: Roaming pe Zi (Roaming by day)
Vodafone in Romania has the cheapest option for heavy users on Vodafone and partner networks in all of the EU/EEA and Turkey. The domestic allowance from a data bundle can be used for a surcharge of € 3.99 per roaming day for a max. of 10 days on their 'Roaming pe Zi' option. For more details see Romania article.
Poland

Orange: Pakiety Internetowe w UE (EU Internet Package)
Orange in Poland offers 50 MB in 3 days for PLN 3 (0.70€) or 300 MB in a week for PLN 15 (3.52€) in all of the EU/EEA. Polish SIM cards are (still) freely available and packages can be booked multiple times. For more details see Orange in Poland article.
Ukraine
Ukraine: Vodafone Roaming
Vodafone (MTS) in the Ukraine offers the cheapest roaming in Europe for specific countries. You need to use their SIM in the Ukraine first. Then you can activate a cheap weekly roaming package or stay on their low default roaming rate of UAH 100 per 500 MB. More info in the Ukraine article and from Vodafone here.
Ad blocker interference detected!
Wikia is a free-to-use site that makes money from advertising. We have a modified experience for viewers using ad blockers

Wikia is not accessible if you've made further modifications. Remove the custom ad blocker rule(s) and the page will load as expected.