Belize has only two mobile telecommunication operators:
DigiCell (by BTL) - GSM
Smart! - CDMA-only
GSM users don't have a real choice as the only GSM-based operator in the country is DigiCell. 2G EDGE is on 1900 MHz and 3G HSPA which is still marketed as "4G" is on 850 MHz. Real 4G/LTE has started in December 2016 on DigiCell on the 700 and 1900 MHz bands.
CDMA-users from US or Canadian networks can activate their device on Smart or if you have a GSM "world phone" with a SIM slot on DigiCell as well.
Because of the monopoly situation of BTL, don't expect a good coverage at high speeds compared with other Central American countries in Belize. Meanwhile, prices remain pretty high. Of course, for heavy data use there is still WiFi available, run by - take a guess - BTL again.
Belize used to be one of the few countries that blocked all VoIP calls like Skype until recently. After a long discussion in 2013 all VoIP has been unblocked and is today usable like in the rest of America.
In 2013 Belize's government introduced a mandatory registration scheme for mobile users. All unregistered lines have been discontinued. So expect to show an ID while purchasing a SIM card. This is now only possible at authorized dealers.
All prices given in this article are in Belize $ (BZD), not US$. 1 US$ is linked to 1.97 Belize $ (BZD). The prices don't include a GST (General Sales Tax) of 12.5%, which still has to be added for the final rate.
DigiCell (by BTL) Edit

DigiCell is run by Belize Telemedia Limited (BTL), the leading state-owned telco in the country, that was re-nationalized in 2009. If you are holding a GSM device, you won't have another choice in this country.
Note, that BTL used to market its 3G/HSPA+ network as "4G". Real 4G/LTE started on December, 16th 2016 nationwide on 700 (band 17) and 1900 MHz (band 2). For their 4G/LTE access you need to get a new uSIM which can be swapped for free against an old SIM in one of their offices.
Availability Edit
DigiCell sells their prepaid SIM Pack which includes an activated SIM card, phone number and $10 prepaid voucher in any BTL Customer Services Center, at authorized dealers and agents countrywide (list). The starter set is sold at $20.
To activate insert your SIM into your phone, turn it on and DigiCell will appear on your screen. Load the value from your $10 card onto your account. You can make and receive calls immediately.
For more credit you can top-up online using a credit card or at agents (locator). Press *10 to recharge your account using top-up cards, press *20 for your account balance.
Data feature packages Edit
For $5 you get a 24-hour daily package of 200 MB in 2G-only up to EDGE speed. To activate, type *932 to access the main menu. To subscribe, Press 1. You will be informed that $5 plus tax will be deducted from your credit balance. Next press 1, to confirm subscription. You will then be told that your session will begin immediately and expire within 24 hours.
You have the choice of these packages for data on 2G, "4G" (=3G) and 4G/LTE:
| Data | Time | Price | Activation |
| --- | --- | --- | --- |
| 75 MB | 24 hours | $ 2 | Data S |
| 200 MB | 3 days | $ 4 | Data M |
| 500 MB | 7 days | $ 10 | Data L |
| 1.2 GB | 30 days | $ 30 | Data XL |
| 2.5 GB | 30 days | $ 40 | Data XXL |
For activation text code to 400. Activated prepaid data plans will expire either once data allowances are fully consumed or time allotted depletes. Customers are then able to purchase another plan. Notifications will be sent via SMS and email indicating data consumed at 80% and 100%.
More information Edit
Smart! (on CDMA-only) Edit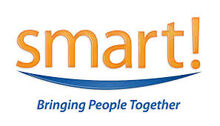 The only other alternative is Smart! It runs on GSM-incompatible CDMA and EVDO. 4G/LTE is planned for end of 2015. So it's only an option for travelers coming from the US with a device from Verizon or Sprint on 800/850 MHz CDMA. You can have it activated in one of their offices called showrooms. But be aware of their low coverage and speeds. They sell three data packages called Zoom on their prepaid plan, valid each for 45 days:
150 MB: $ 5
420 MB: $ 10
512 MB: $ 15
For more information check: http://smart-bz.com/
Ad blocker interference detected!
Wikia is a free-to-use site that makes money from advertising. We have a modified experience for viewers using ad blockers

Wikia is not accessible if you've made further modifications. Remove the custom ad blocker rule(s) and the page will load as expected.