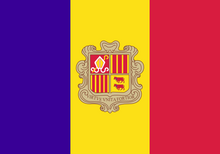 The Principality of Andorra is a landlocked microstate in Southwestern Europe, located in the eastern Pyrenees and bordered by Spain and France. 
Andorra remains one of the most expensive places in Europe to use a mobile phone, both for buying a local SIM card and for roaming with a SIM card from outside Andorra. You should limit your data usage until you reach a different area in France or Spain at much better rates.
Location outside the EU Edit
Although Andorra is not member of the EU or EEA and consequently EU roaming price caps don't apply, many European networks voluntarily used to apply EU price caps for roaming in Andorra. However, since 2014 many are ceasing to do so as a result of a significant hike in wholesale costs by Andorra Telecom. Fortunately these high costs can often be avoided because Spanish or French antennas cover a major part of the country. Therefore, like always in border areas covered by multiple networks, be sure to prevent roaming by making a manual network selection. Down in the valley, 3G reception from Spain or France is not good. So if you stay for longer, you might consider buying a local SIM card.
Andorra Telecom Edit
Andorra Telecom is the only network provider in this small country. The state owned company was formerly called Servei de Telecomunicacions d'Andorra (STA) a.k.a. Som. It has 2G on 900 and 1800 MHz and 3G/UMTS on 2100 MHz like in most of Europe. 4G/LTE is on 1800 MHz and 800 MHz, but not yet open for prepaid.
Mobiland Clic!Edit
Their prepaid product is called Mobiland Clic! You can purchase a SIM card from the Andorra Telecom head office at Av. Merixell 112 in Andorra la Vella or its distributors. Mini-SIMs (2FF), micro-SIMs (3FF), and nano-SIMs (4FF) are available.
A SIM card costs a whopping € 60 including the same credit valid for 5 months. When credit is used up, card stays valid for another 8 months incoming only.
Top-ups can be done with vouchers for € 15, € 30 or € 60 valid for 2, 5 or 7 months respectively available in stores. Check credit by calling 178 for free.
Data feature packagesEdit
There is no data without packages which have to be activated by sending a SMS. To check the remaining data credit, send a free empty SMS to 123.
| Price | Volume | Validity | Text empty SMS to activate |
| --- | --- | --- | --- |
| € 1 | 50 MB | 24 hours |  to 101 |
| € 3 | 250 MB | 48 hours | to 102 |
| € 5 | 500 MB | 7 days | to 103 |
More informationEdit
Ad blocker interference detected!
Wikia is a free-to-use site that makes money from advertising. We have a modified experience for viewers using ad blockers

Wikia is not accessible if you've made further modifications. Remove the custom ad blocker rule(s) and the page will load as expected.